Zhangjiajie China Travel Service Co.,Ltd ( CTS.ZJJ) is delighted to showcase the span of travel treasures that lie in beautiful China. For this, we are glad to offer a glimpse of what we do to as many influential people that are ready to experience Zhangjiajie and the other surrounding cities that we represent. For this, we hold Zhangjiajie FAM Tour every year that can be customized to suit your business needs.
---
What is Zhangjiajie FAM Tours?
Zhangjiajie FAM Tours are organised for travel agents, tour operators, members of the media and individuals. We aim to illustrate the nuances of travel planning, itinerary creation to suit a particular need, highlight what we think is essential for the destination and reveal our strength of longstanding partnerships with hotels and other holiday partners that make a trip smooth.
---
Why to attend Zhangjiajie FAM Tours?
On a FAM, you will be able to see the best of our abilities in action, so that there is nothing left for you to imagine, when you finally entrust your clients with us. More than that, our FAMs give you an opportunity to relax, step out of the business mode and enjoy this spectacular region.
---
Who can attend the Zhangjiajie FAM Tours?
Travel Agents – The strength and the reach of our business has been a function of resilient longstanding relationships with our travel agent partners. Even if travel agents have been our partners for a long time, their FAMs are structured around new destinations or fresh highlights on classic itineraries of their interest. This helps them to envision a trip, as their client would take it. This is also a great opportunity for new travel agent partners to assess our operations and embark on a journey of new business union with us.
---
Tour Operators – We also hold FAMs for Tour Operators, who bring small and big groups to the subcontinent. Indo Asia is equipped to handle customized tours, depending on the need and expectation of a particular travel taste. A great way to begin a business journey or revive old connections that have lasted over the years, the only way to achieve this is by showcasing the best of Indo Asia. FAM Tours for Operators is an ideal way for them to evaluate our operational strength while enjoying the backdrop of a new destination.
---
Government Officials
- Government officials include government leaders of all countries in the world, such as the president, prime minister, ministers of government departments, especially ministers and other officials of tourism administration, also include mayors and other officials of the municipal government all around the world.
---
Tourism Organizations -

Tourism Organizations

includes various types of tourism organizations in the world, such as the World Tourism Organization, the Pacific Asia Tourism Association, etc.; as well as outbound tourism associations, travel agency associations, photography associations, mountaineering associations, explorers associations and so on of various countries in the world.
---
Principals & Teachers - Principals and teachers of various universities, middle schools, especially Confucius Institutes in the world.
---
Media – Print, Online and TV Media plays an integral part of our communication efforts. It is only natural that we take a focussed opportunity to showcase our best to the members of this group. Media FAM Tours make for great storytelling ideas with stunning backdrops, functional information and other material like hotel reviews for different mediums. Look at these tours as an excellent way for travel exposure. We invite international and national media to come for these tours in order to experience a new destination and the China hospitality.
---
Individual – The true testimonial for any travel establishment is when an individual traveller speaks of his or her experience to others. The impact of word of mouth marketing is unparalleled. This is why FAM tours for individuals is a special initiative from team Zhangjiajie Holiday Tours to reach out to influential individuals who truly like to travel to new and exciting destinations and are open to a glimpse of distinct cultures, deep rooted traditions or thrilling new adventures that we would like to showcase.
---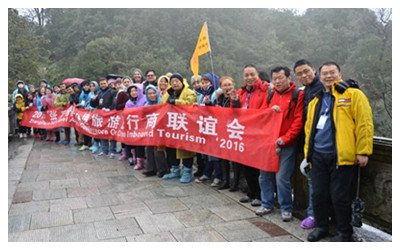 Zhangjiajie FAM Tours 2016
Zhangjiajie FAM Tours 2016, opened on March 7-14, 2016, was organized by Zhangjiajie China Travel Service Co.,Ltd, China Travel Commune, China Inbound Tourism Association,and Tourism & Foreign And Overseas Chinese Affairs Committee Of Zhangjiajie City. Over 350 travel agents from 23 countiies gattered in Zhangjiajie and attended the FAM tour...More
---