---
Hezheng Ancient Animal Fossil Museum
---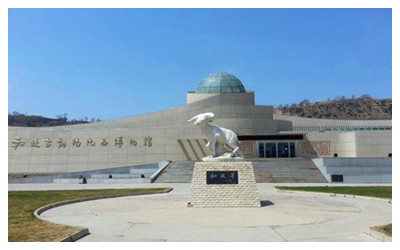 Established in 2003, Hezheng Ancient Animal Fossil Museum is located in Chengguan Township, Hezheng County and is a secondary state-level museum.
The museum is divided into two parts: first museum exhibition and second museum exhibition. The total area accounts for 4.33 hectares and the building area is 8,000 square meters. There are more than 30,000 kinds of ancient animal fossil collections which consist of 3 classes, 8 orders and 150 species that including the A-level fossils are more than 50, the B-level are 180 and the C-level are 350.

Hezheng Ancient Animal Fossil Museum totally has more than 1,500 high-quality fossil representatives of four ancient animal groups in different ages on display; categorized as Hezheng Fossils Exhibition of Four Ancient Animal Groups and Hezheng Ecological Rehabilitated Exhibits of Four Ancient Animal Groups. And Fossils Exhibition of Four Ancient Animal Groups has been honored as the Excellent Award in the 10th National Museum Top 10 Exhibitions. Since it was founded, the visitors to Hezheng Ancient Animal Museum have reached one million. The museum is named after National Science Education Base for Adolescents and Youths, Patriotism Education Base of Gansu Province, Eco-Construction and Green Environment Education and Demonstration Base of Gansu Province and Research Base attached to Institute of Vertebrate Paleontology and Paleoanthropology, Chinese Academy of Sciences.
---
Travel Tips
Add: Hezheng County,Linxia City,Gansu
Opening Hours: 08:00-17:20
Entrance Fee: CNY 30
http://www.gshzmuseum.com/
---