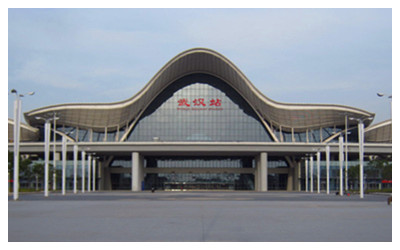 The special geographic location made Hubei as the largest comprehensive transportation hub in Central China, which bridges the east and west, the north and south. The railways of Beijing-Kowloon, Beijing-Guangzhou, Jiaozuo-Zhicheng and Zhicheng-Liuzhou cross Hubei from north to south, and the railways of Wuhan-Danjiangkou and Xiangyang-Chongqing go through Hubei from east to west. The in- progress high speed railways connecting Beijing and Guangzhou, Shanghai and Chengdu join in Hubei.
---
High Speed Railway in Hubei
Wuhan-Guangzhou high speed railway is running at the highest speed in the world. To be the first into the era of high speed railway, Hubei has the total railway mileage of 3,300km.Wuhan railway station is the central hub of chinese high speed railway.
Wuhan-Yichang Railway, also Hanyi Railway, is a section of a major high-speed rail corridor between the eastern metropolis of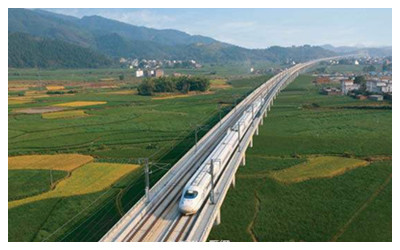 Shanghai and southwest China's city of Chengdu which was opened in 2012.The 293-km Hanyi Railway links Wuhan and Yichang, two large cities in central China's Hubei province. The railway reduces travel time between the cities to one hour and 39 minutes. The Hanyi Railway is part of the Shanghai-Wuhan-Chengdu Railway, or Huhanrong Railway, a major east-west high-speed rail corridor outlined in China's national high-speed railway development plan. The 2,078-km railway travels through four provinces and two municipalities, connecting the cities of Shanghai, Nanjing, Hefei, Wuhan, Chongqing and Chengdu.
A bullet train leaves the Yichang East Railway Station on the inaugural trip of the Hanyi Railway, in Yichang, central China's Hubei Province, July 1, 2012. The 293-kilometer Hanyi Railway, an express rail link that connects Wuhan, capital of Hubei, and Yichang, was launched on Sunday. The railway will reduce travel time between the cities to one hour and 39 minutes. (Xinhua/Hong Tongqian)
---
Hangzhou-Wuhan High-speed Railway
connects Huangshan Mountain, Jiuhua Mountain and Taiping Lake, all well-known tourist spots in East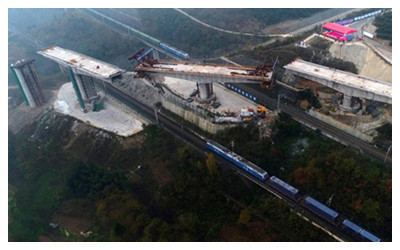 China's Anhui province. The express rail from Wuhan, capital of Central China's Hubei province, to Hangzhou, capital of East China's Zhejiang province, is designed to pass Anqing, Chizhou and Huangshan cities of Anhui province. That means tourists will be able to reach famed Huangshan Mountain, Jiuhua Mountain together with Taiping Lake by high-speed railway.Rail authorities are still drawing up a preliminary plan for the rail.According to Wuhan-based Yangtze River Daily, the city aims to kick off construction of the railway in 2016.
---
Wuhan-Shiyan High-speed Railway Under Construction
Wuhan-Shiyan high-speed railway in central China's Hubei Province is under construction which is to be finished at the end of 2019.