---
Dongba Culture of Yunnan Province
---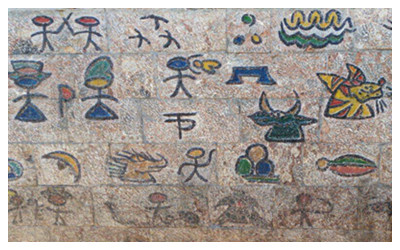 Naxi is a minority with a long history and a brilliant culture. With a population of 300,000, this group mainly live in Yulong County, Lijiang City of Yunnan Province. It has become known worldwide for having kept its own ancient and unique Dongba Culture and thus claimed to be a small group that has created a grand culture.
The Dongba Culture or the traditional Naxi Culture, derived its name from the Dongba scriptures preserved in the Dongba hieroglyphic language. Dongba scriptures are classics of the Dongba religion which, characterized as worship of ancestor and nature, was based on the Naxi primitive religion integrating cultural factors from the Han, the Tibetan and other nationalities.
Sutracaryas of Dongba religion are called Dongba meaning "sage". They are disseminators of the Naxi culture, and function as sorcerers, doctors, scholars, artists and craftsmen. They also take part in farming activities, and are turned to in sacrificial ceremonies.
The Dongba culture is a most inclusive term referring mainly to the language and scriptures; the Dongba language is actually composed of 1,400 hieroglyphic characters and symbols that are still used by Dongbas, researchers and artists of the culture. It is by now the only living hieroglyph in the world and is regarded as a precious cultural relic of mankind; on August 30, 2003, the Dongba classical literature was accepted as a written world heritage by UNESCO.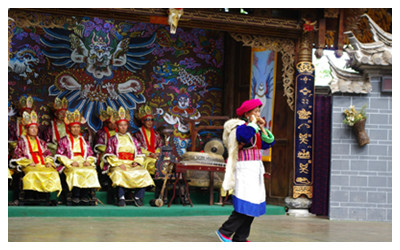 Initially created in the Tang Dynasty, the Dongba writing has a history of over 1,000 years; phonetically it is articulated in the Naxi vernacular as "Sijiu Lujiu" meaning to paint woods and stones just as they are seen. This pictographic language came to be called the Dongba language since it was employed to write down scriptures by Dongba of the religion; based on ideographic symbols, this language also takes in some phonographic loan characters and diacritics.
"Dongba scriptures", as the name suggests, means scriptures written in the Dongba language. The existent Dongba scriptures add up to approximately 20,000 fascicules of more than 1,500 types, involving such fields as philosophy, history, religion, medicine, astronomy, folklore, literature and art. In addition to the abundant records about inviting gods and driving away ghosts, about praying for happiness and longevity and about warding off calamities and disasters, there are a 1arge number of ancient literary works of the Naxi people, such as fairy tales, narrative epics, proverbs and ballads. The most well known are the creation epic Genesis, the heroic epic War between White and Black, and the tragic epic Migration of Herdsmen, which are called the three major Naxi epics and acclaimed as the three pearls in Dongba literature. Dongba scriptures are, therefore, also nicknamed as encyclopedias of the Naxi ancient society.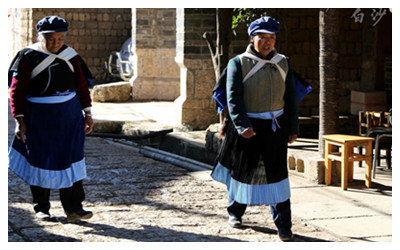 Also included in the Dongba culture are its paintings, dances, and music as well as its religious rites and ritual implements. The paintings can further be classified into wood-slats, cardboards and cloth-rolls, with the last being the most renowned. Route Map of Gods, the most typical of the cloth-rolls, is held to be a treasure of ancient Naxi paintings; a huge painting of 14 meters by 0.3 meters, it describes scenes from Heaven, Earth and Hell. In this picture are more than 370 colorful images of the Buddha, devils, wild animals and human figures, all painted with bold strokes. Dongba dance, originating from the production and life of Naxi ancestors, reveals both the natural disposition and the original beauty of Naxi people; in the Cuomo Dance, a so-called textbook for dance, for example, 60 types of dance are recorded concerning worship of Buddhist gods; It is esteemed as one of China's relatively ancient and complete atlases of dance and, most amazingly, its instructions are still workable to its music. The ceremonies of Dongba religion total more than 50 types, of which the major ones are worship of the Heaven, worship of ancestry, worship of wind, and prayer for longevity; so far, as many as 30 ritual implements for services of this religion have survived.
Many other countries have built their own collections of Dongba scriptures, for instance, the U.S.,the U.K., France, Japan, Germany, Italy and Austria. In the U.S. alone, the collection in the Library of Congress plus that in Harvard Library numbers over 4,000 volumes. In China, Dongba scriptures have been collected by the Library of Yulong County, the Library of Yunnan Province, China National Library, the Library of Central Nationalities University, and libraries in Taiwan.
Ever since the 19th century, Chinese scholars like Zhang Taiyan, Liu Bannong and later Fei Xiaotong have attempted to gather, sort and study the Dongba language; their work drew worldwide attention in the 1870s. Afterwards, scholars from France, the U.S., Germany, Sweden, Japan and other countries started to collect and study Dongba writing. In his book, A Study of Mo-So published in 1913, the French scholar M. Jaques Bacot (1877-1965) first introduced 370 Dongba characters to the outside world; the American scholar J. F. Rock (1884-1962) compiled A Na Kni-English Encyclopedic Dictionary; among the works by Chinese scholars, A Dictionary of Mo-So Hieroglyph by Li Lincan and An Atlas of Naxi Hieroglyph by Fang Guoyu stand as two masterpieces.
Over the period from 1981 to 2001, the Lijiang Institute of Dongba Culture of the Yunnan Academy of Social Sciences, through the concerted efforts of a dozen researchers and ten veteran Dongba, managed to complete and publish A Complete Annotated Translation of the Naxi Classics of Dongba Culture (100 volumes). This voluminous work contains 1,000 Dongba classics and, for the reader's convenience, is arranged in the order of Dongba original, international phonetic transcription, then literal and free versions of Chinese translation. Thus, even common readers of Chinese can expect a fair understanding of the hieroglyphic Dongba classics that otherwise would be as difficult to them as books from heaven.
For better protection, research and development of the Dongba Culture, in1984 the Naxi Dongba Cultural Museum was founded at the Black Dragon Pool of Lijiang. The museum has more than 10,000 Dongba cultural relics and various other historical relics and offers the "Dongba Culture Exhibition", thereby attracting more than 100,000 visitors each year; meanwhile, it also compiles and publishes Newsletter of Dongba Culture and has established the Lijiang Naxi Dongba Cultural School; for its outstanding work over the past years, this museum has been rated as one of the ten excellent prefectural and county museums in China, awarded the honor of "Advanced Cultural Unit in China", and listed as one of the bases for patriotism education of the province.
---