Guangdong Transportation has been improved very fast sine 2000. Travel to Gaungdong is very easily by air from all around the world. Guangdong province is located in the southernmost part of the Chinese mainland. It adjoins Fujian province in the east and Jiangxi and Hunan provinces in the north. To the west, it is Guangxi Zhuang autonomous region, and to the south the South China Sea. China's second-largest river - the Pearl River - flows through Guangdong. To the east of the Pearl River Estuary, it is the Hong Kong Special Administrative Region and to the west, Macao Special Administrative Region. The southwestern Leizhou Island in Guangdong is separated from Hainan province by the Qiongzhou Strait.
---
Airports in Gaungdong
Guangdong boasts 8 airports to operate by the end of 2018. They are :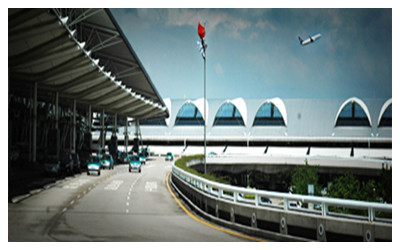 1.
Guangzhou Baiyun International Airport
2. Shenzhen Bao'an International Airport
3. Meizhou Airport
4. Zhuhai Airport
5. Foshan Airport
6. Huizhou Airport
7. Jieyang Chaoshan International Airport
8. Zhanjiang Airport
---
Railway in Guangdong
Guangdong province's rail network spanned 3,818 kilometers as of the end of 2014, a 19.2 percent year-on-year increase. This included 629 kilometers of national railways and 3,189 kilometers of local railways.There are eight rail lines crossing Guangdong province, including the Beijing-Guangzhou Railway, Beijing-Kowloon Railway, Guangzhou-Shenzhen Railway, Litang–Zhanjiang Railway, Zhanjiang-Haikou Railway. Four more lines will also be added to the list by 2020.
Guangzhou serves as the province's main rail hub, with three major north-south railways and two east-west lines running through the city to connect Guangdong with places around China.There is also a fast-growing high-speed rail network in the province with more than 1,400 kilometers of line as of the end of 2014, making it the largest in China.
Several major high-speed lines including the Wuhan-Guangzhou High Speed Railway, Guangzhou–Shenzhen–Hong Kong Express Rail Link and Xiamen-Shenzhen High Speed Railway are already in operation. The main hubs for this high-speed network are Guangzhou South and Shenzhen North stations.
---
Highway in Guangdong
As of the end of 2015, Guangdong province has the largest highway network in China. The region is now connected by a total of 216,000 kilometers of highway, including 7,021 kilometers of expressways, a 12 percent increase year on year. All of Guangdong's 67 cities and counties are well connected by expressways. Travelers can also easily drive to Hong Kong and Macao Special Administrative Regions and the provinces bordering Guangdong using the region's 19 expressways. The capitals of Guangdong's neighboring provinces can all be reached within 10 hours.
The Humen Second Bridge
is currently under construction by the Guangzhou Provincial Expressway Group, which will be 13 kilometers long with an eight-lane highway running across it. When completed, it will be the widest steel-box-girder suspension bridge in the world.
---
Transportation in Gaungzhou
Guangzhou
, the south gate of
China
, has a satisfying transport system radiating to the whole country and even the world. It has direct flights with Los Angeles of US, Vancouver of Canada, London of UK, Paris of France, Amsterdam of the Netherlands, Sydney and Melbourne in Australia, Singapore, Kuala Lumpur of Malaysia, Bangkok of Thailand, and many other Asian destinations. If you are already within
China
, a wide range of vehicles can facilitate your trip to and from the city, including the planes, trains, long-distance buses and ships.