---
Top Snacks in Guangdong
---
No trip to Guangdong would be complete without trying snacks. Hundreds of delightful dim-sums in bamboo steamers or plates are served with pots of Chinese tea for breakfast traditionally and for anytime you like nowadays. Steamed BBQ Pork Bun, Xiguan Salty Pancake, Sampan Congee, Wonton Noodles, Shrimp Dumplings and Shahe Rice Noodle are just some of the local favorites. Its ever-changing tastes are beyond words. So, try some of our wonderful delicacies!
---
No.1: Sampan Congee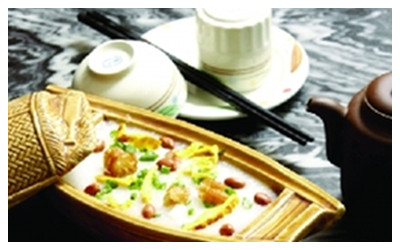 Sampan Congee is one of the most popular Cantonese snacks. Major ingredients include pork, fillet, fried peanuts, sliced fried egg, cut-deep-fries dough sticks etc.
It is said that in the past the Sampan Congee was first served by scholars and tourists who took a boat tour in the suburbs of Guangzhou, later, many local restaurants began to prepare such Congee and people now can taste Sampan Congee everywhere in Guangzhou.
Chentian Ji restaurant
Located in Baohua Road, Chentian Ji restaurant is an old restaurant dating back to 1980s. Only three kinds of snacks are provided here. Shunde Fish Skin, Sampan Congee and Steamed Rice Flour Rolls.
Add: Shiwu Fu Sanxiang, Baohua Road, Liwan District, Guangzhou
Tel: 020-81828774
Transportation: Bus No. 114, 123, 113, 112, 243, 121A
---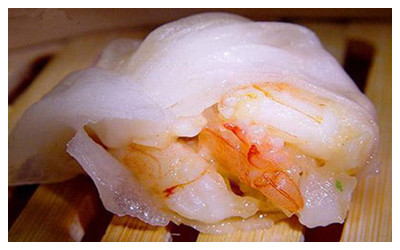 No.2: Shrimp dumplings
The translucent shrimp dumplings is a traditional Cantonese dumplings served in dim sum. The filling usually contains shrimp, cooked pork fat, bamboo shoots, scallions, cornstarch, sesame oil, soy sauce, sugar, and other seasonings.
Shrimp dumpling, as part of "Yum Cha", is often served in tea houses. The time-honored teahouse brands in Guangzhou are Taotaoju, Luyvju, Paxiangju, Nanyuan, Beiyuan, Panxi, Datong, Huiru, Sanru, Duoru, Qiaoxin, Dexin, Zhengxin, Fulaiju, Xihuaju, Meizhenju and so on.
---
No.3: Cantonese-style moon cake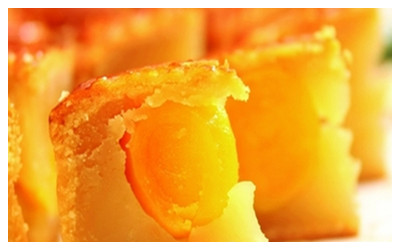 The Cantonese-style moon cake is beautifully shaped with clear and exquisite pattern. There are two differenttastes: salty and sweet. The different fillings include: lotus seed, almond, olive kernel, peach kernel, green bean, sesame, salty egg, roast goose, dried mushrooms, ice meat, sweet wax gourd, shelled shrimps, etc.Lian Xiang Lou Restaurant, Guangzhou Restaurant, Tao Tao Ju Restaurant, Quxiang Cookhouse, etc, are the representatives of producing Guangdong-style moon cakes. The most famous moon cakes are "Taotaojusang Moon Cake" made by Tao Tao Ju Restaurant and "Lotus Moon Cake" made by Lian Xiang Lou Restaurant, etc.
Tao Tao Ju
Add: No.20, the tenth fu Road, Liwan District, Guangzhou
Tel: 020-81396111
---
No.4: Wonton Noodles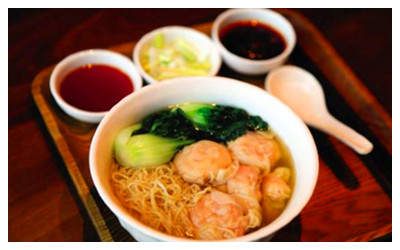 Wonton Noodles, with crisp noodles, tender wonton fillings and a fragrant soup,are one of the favorite small dishes of Guangzhou. The soup is boiled with shrimps, dried sole, and fine pork bones. The wonton is made with fresh pork, shelled shrimps and eggs, and cooked in a thin rice dough wrapper. After cooking, the wonton turns semi-transparent, clear and tempting; hence, its nickname of "glassy wonton".
Baohua Noodle Restaurant
Located in Xiguan, near Shangxiajiu Pedestrian Street, Baohua Noodle Restaurant has been serving Wonton Noodles for the past 20 years. The bouillon severed with the noodles is regarded as the soul of this delicious dish. Baohua's bouillon is prepared with dried fish, shrimps and pig bone. It is therefore tasty, yet not strong enough to cover the delicate taste of the Wonton.
Address: No.117, Baohua Road, Liwan District, Guangzhou
Tel: 020-8318 3022
---
---