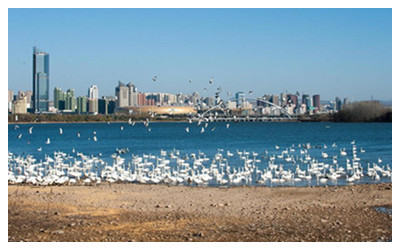 Yellow River Wetland, also known as Swan Lake Wetland Park in Sanmenxia, Central China's Henan province, is a National Natural Reserve with a total area of 68 thousands hectare in Henan province. It's a bird breeding place with over 41 types of animals under first-grade and second-grade protection at the state level.
Sanmenxia, dubbed as the 'City of Swans', is perhaps the best place along the Yellow River to appreciate swans from early winter to early spring.
From early winter to early spring, Sanmenxia plays host to an interesting, intimate group of friends -- white swans. These magnificent birds journey from Siberia to this location, where they can be seen in the hundreds of thousands, flying freely over a broad, rippling lake surface. They paddle about, forage, then rest peacefully in the beautiful landscape, attracting watchers from all over the world.
Starting in August 2002, the municipal government embarked on a project to enlarge the city's Shanzhou Park into Swan Lake State Urban Wetland Park, creating a suitable habitat for swans.
It consists of three parts, namely, the original Shanzhou Park, the Swan-Watching Zone, and the ecological forest along the Yellow River.
In February 2007, the wetland was recognized as the only national urban wetland park in Henan province. The city was rewarded as the 'Home of Swans' by the China Wildlife Conservation Association in March 2010.
---
Travel Tips
Address: Hubin District, Sanmenxia City
Level: AAAA
Tel: 0398-2821788
Official website: http://www.smxteh.com/
Opening hours: 08:00-18:00