---
Zigong Dinosaur Museum
---
Established in the noted site of dinosaur fossils, Da Shanpu, Dinosaur Museum in Zigong is about 11 kilometers from the center of Zigong City. It covers 25,000 square meters , which makes it the biggest in southeast China. It enjoys the same excellent reputation as the American National and Canadian Dinosaur Parks, presently affording a large-scale preserved dinosaur fossil burial site.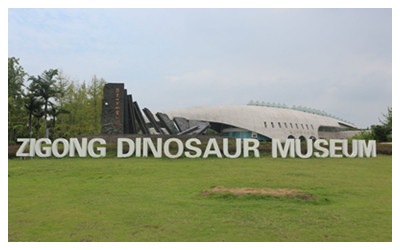 The museum holds affiliated buildings, a green belt and halls which include a fossil burial hall, central hall, conference room, dinosaur ecological environment hall, and so on. Since the opening in 1987, it has enjoyed a top reputation with its unique architectural style, magnificent burial site, life-like exhibits and elegant environment. With two floors and a basement, the huge rock cave-like museum exhibits dinosaur fossils, dinosaur site, plants and animals in the age of dinosaur, and rare species of dinosaurs.
The contents of the museum can be categorized into three parts. The first part concentrates on the evolution of dinosaurs and species, from which we have gained a general understanding of this ancient giant.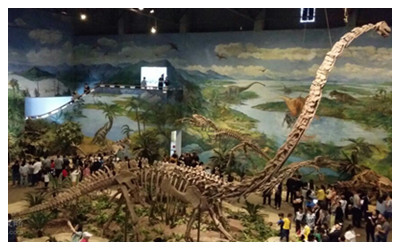 The second part houses many dinosaur fossils exhibited in the tall and spacious shelf hall, including a couple of whole dinosaur skeleton fossils, the most striking of which is the Tianfuensis. It has an imposing body and long tail, about 20 meters (about 66 feet) long, dwarfing other dinosaurs beside it. Other fossils are of animals that lived on meat or plants, as well as those that could swim or fly.
The third part-- the burial site of dinosaurs -- is the excavation that holds numerous ancient vertebrate animal fossils, mainly those of dinosaurs who lived about 160 million years ago. The site is regarded as the epitome of dinosaur tombs.
Passing through the museum, you will enjoy its mysterious ambience taking you to the world of more than 100 million years ago.
---
Travel Tips
Transportation: Take buses from Wuguiqiao Bus Station (near Tazishan Park), North Gate Bus Station, Airport Bus Station or Xinnanmen Bus Station in Chengdu to Zigong first. Then take bus no. 7, 15, 35 or 306, and get off at Kong Long Guan (Dinosaur Museum) Station.
Accommodation: The two-star Tanmu Lin Hotel with its ancient style and the three-star San Wan Hotel in the center of Zigong City are convenient. Trains connect Zigong City with Chengdu or Chongqing via Neijiang. Souvenir specialties include Zhu Si Tuan Shan (bamboo fans) and Zigong paper-cuts.
Admission Fee: CNY 42
Opening Hours: 08:30-17:30 (Stop selling ticket at 17:00)
---