The photo taken on 10th June,2015 to show the tourist from Ukraine attending the activity of Crying Marriage at the theater of Dreamlike
Zhangjiajie
.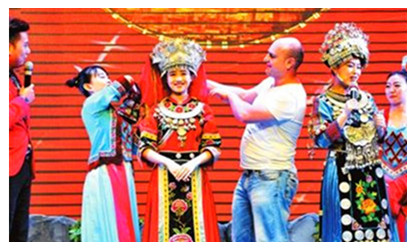 "Dreamlike
Zhangjiajie
" is a show which is put on in Wulingyaun District of Zhangjiajie City.
Tujia
Ethnic Minority's Crying Marriage is one of the major projects of the performance. Nazar is enjoying and playing the game of the performance." I like the natural scenery but also the mysterious culture of Zhangjiajie." Nazar said,"
Tujia
Culture is very colorful and it is very good!"