---
Hunan No.1 Normal College
---
Hunan No.1 Normal College was built by imitating the Japanese architecture style and it was developed from the former Chengnan (City South) Academy in the Southern Song Dynasty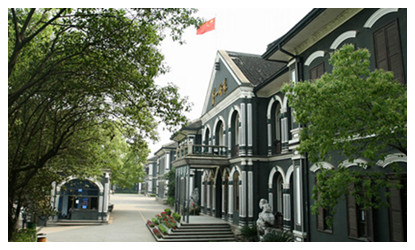 (1127–1279). In the modern times of China, you may find, there is no other secondary school of teachers that has produced so many revolutionaries, educators, theorists and generals as Hunan First Normal University.
The school has been selected as an example of advanced education for teaching and scientific research. Its beautiful garden-style architecture has caused it to be chosen as an example of civilized building culture at the municipal, provincial, and national levels. The original campus has also been long designated as a major historical, cultural and patriotic site.
Hunan First Normal College has kept abreast of the times and blazed new trails showing the world a new face by upgrading its facilities and developing an amazing new campus.
Its solid reputation as a "thousand-year institution of higher learning and hundred-year normal school" was enhanced when it became the alma mater of such famous men as Mao Zedong, Cai Heseng, He Sheheng, Ren Bishi and so on. Here you can sit at the desk of young Mao Zedong and imagine the school time of the young man.
---