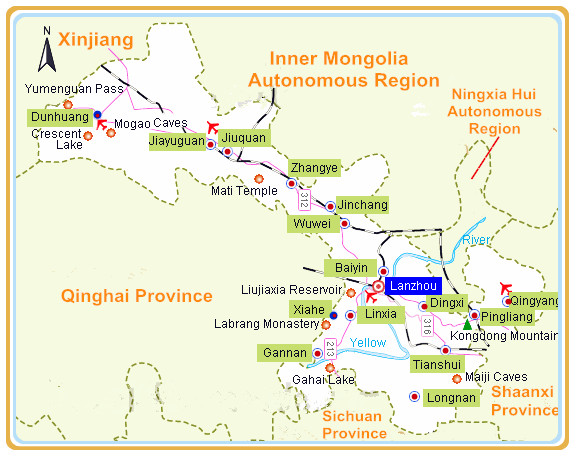 Jinchang City
is located in northwestern Gansu Provinceat the north foot of the Qilian Mountains. It neighbors Wuwei Cityin the southeast within the province, and shares boundaries with Qinghai Province in the southwest and Inner Mongolia in the northwest.
Facts of Jinchang
Chinese Name: 金昌市 (jīn chāng shì)
Population: 467,000
Area: 9,593 square kilometers (3,704 square miles)
Nationalities: Han,Hui
Administrative Division: 1 district (Jinchuan); 1 county (Yongchang)
Seat of the City Government: No.82, Xinhua Road, Jinchuan District,Jinchang City
---
History of Jinchang
As early as 4,000 years ago, ancestors of Gansu People entered the primitive clan society. Before the Western Han Dynasty (206BC-24AD) established shires and counties to administrate this area, it was successively dominated by several ethnic regimes.
---
What to see in Jinchang?
The terrain of Jinchang city basically declines from south to north, and its land interleaves mountains and plains. Southern Jinchang is comprised of vast mountainous area. In the central, there are basins, oasis plains and mountain valleys dotted peaks. Desert plain is mainly distributed in northern area. Jinchang also has rich tourist resources, including cultural relics and historic sites, such as Yuanyang Pond in the Neolithic Age, the Great Wall of the Ming Dynasty (1368-1644), numerous tombs in the Han Dynasty (206 BC-AD 220), temples in the Tang Dynasty (AD 618-907), bell towers in the Ming Dynasty, and ancient architectural complexes. Here lists top attractions in Jinchang.
---
When to visit Jinchang?
Jinchang bears a dry continental climate in temperate zone. It is rich in sunshine. Spring is windy and the temperature is unstable. Summer is the rainy season, and the cold air usually attacks the city in mid-September. In the dry and chilly winter, its average temperature will drops between -14.6

C and -9.5

C (14.9

F -5.7

F). On the whole, the local temperature varies greatly both during a day and the whole year. It is the best time to visit Jinchang in summer and autumn.
---
How to get to Jinchang?

By Air: Jinchang Airport, covering an area of 3025.5 acres, with a total investment of 365,000,000 Yuan, is one of the key projects of both the national and Gansu "Eleven Five" plan of civil aviation. It is located at Bafendi, 19km to the east of Jinchang. The latitude and longitude of the reference point of the airport are decided tentatively at 102°20′20″and N38°32′32″and the magnetic azimuth of the runway at 130°—310°. The grade indicator of flight zone is 4C and the runway is 3000 meters long. The ocnstruction started on April 16, 2009.
Jinchang Airport
Address: Jinchuan Disctrict, Jinchang City

By Bus: Jinchang is 396 kilometers (246 miles) from Lanzhou, and there are direct buses at Lanzhou Bus Station located at No.133, Pingliang Road, Chengguan District. Jinchang Bus Station in Xinhua Road (East) offers buses to and from Lanzhou, Wuwei, Jiayuguan and many other places within the city or neighboring cities.
Jinchang Bus Station
Address: near 28-1 Xinhua Road, Jinchang
Tel: 0935-8213832
Yongchang Bus Station of Jinchang
Address: Nanguan Road, Chengguan, Yongchang, Jinchang
Tel: 0935-7522910