---
Mi Fu Memorial Temple
---
L
ocated in Guizicheng of Fancheng District of Xiangyang City, Mi Fu Memorial Temple, aslo known as Mi Ancestral Temple, sits right on the opposite of Small North Gate of Xiangyang, with the Hanshui River running through between them. The Memorial Temple in Xiangyang is for commemoration of Mi Fu, the great calligrapher and painter of the Northern Song Dynasty. Mi Ancestral Temple is near the southeast of Han River in Fan City whose old name was Migongan ,built in honor of the famous calligrapher Mi Fu of the Song Dynasty.The building in the temple is well-proportioned .And there is a 500-year-old ginkgo biloba in the temple.Over 100 stone inscriptions carved by the famous calligraphers display in the gallery.Their calligraphy is vivid and of high degree of professional proficiency.
---
Who is Mi Fu?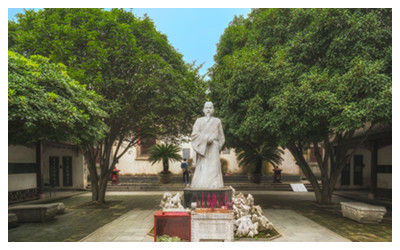 Mi Fu (1051-1107 AD), styled himself as Yuanzhang, Xiangyang Manshi, Lumen Jushi, Wu'ai Jushi and Haiyue Waishi, is also called Mi Xiangyang by others. Mi Fu is a versatile and learned scholar. Not only is he a master of poetry, prose, calligraphy and painting, but also a collector with insights. He is in particular known for his accomplishments in calligraphy and painting. His calligraphy carried forward the style of the great calligrapher Wang Xianzhi of the Jin Dynasty, featuring unconventional charms. Emperor Huizong recruited him as Master of Calligraphy and Paining, and Mi Fu had served as assistant department director of the Ministry of Rites. With his knockout strokes in calligraphic works, Mi Fu and Cai Xiang, Su Shi and Huang Tingjian were together called "the Top Four Calligraphers of the Song Dynasty". He was also honored by Emperor Gaozong as "frank and straightforward, like riding a galloping horse and enjoying the freedom of maneuver without whipping or reining as to go its way.
---
What to see?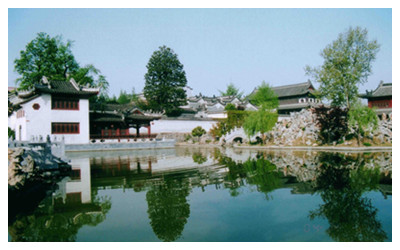 Mi Fu Memorial Temple was originally called Mi Fu Memorial Hut. It was built in the Yuan Dynasty and expanded in the Ming Dynasty, and later called its current name. Since 1693 or the 32nd year of the reign of Emperor Kangxi of the Qing Dynasty, it has been in constant reconstruction by his 18th descendent Mi Zan, 19th descendent Mi Jue and 20th descendent Mi Peng. One of the latest reconstruction was in 1865, or the 4th year of the reign of Emperor Tongzhi of the Qing Dynasty. Inside the temple, there are commemoratory architecture like the Worship Hall, Baojin Study and Yanggao Hall. The temple collects 45 pieces of calligraphic cloths, imitated by Mi Fu's descendants in 1730 or the 8th year under the reign of Emperor Yongzhen of the Qing Dynasty, in addition to 145 pieces of other inscriptions.
---
Travel Tips
Address: No.2 Jiefang Road, Fancheng District, Xiangyantg City,Hubei Province
Entrance Fee: CNY 25
Opening Hours:08:00-18:00
Tel: 0710-3433316
---