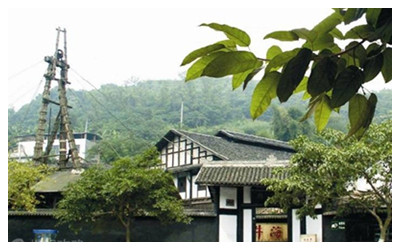 Zigong Shenhai Well is located in the foothills of Ruanjiaba Mountain in Da'an District. It covers an area of 3 acres and has an elevation of 341.4 meters. The well depth is 1001.42 meters, which produces both halogen and gas.
The Shenhai Well was excavated in 1823 and finished in 1835 during the Daoguang Emperor Period of the
Qin
g Dynasty(1645-1911), which lasted to dig over 13 years. The depth of the well was 1001.42 meters.
Shenhai Well has been in production for one and a half centuries since its establishment. Due to the lack of maintenance for a long time, the damage to underground facilities is very serious. Later, after repair, Bohai Well can still produce about 1,500 cubic meters of natural gas per day.
Its main buildings include boudoirs, large garages, stoves, and cabinets. The main production equipment includes trusses, derricks, carts, salt pans, salt silos, and gas transmission facilities. It shows traditional techniques and techniques such as drilling and drilling, natural gas mining, brine extraction and salt-frying in the
Qin
g Dynasty(1645-19110. Bohai Well is also one of the components of the Zigong World Geopark.
---
Travel Tips
Address: Under the Shanjiaba Mountain, Daan District, Zigong City, Sichuan Province
Opening hours: 08:30-17:30.
Entrance Fee: CNY 30