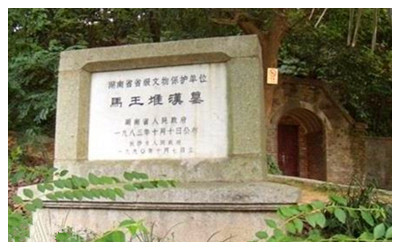 The Mawangdui Han Tomb site is located in an eastern suburb of
Changsha
near the Liuyang River, about 5 kilometers from the city center. According to legend, it is the tomb (mound, or "dui") of Ma Yin, the Han Chinese King ("Wang") of the Kingdom of Shu (CE 221-263), hence the name, Mawangdui.
Among the three Han tombs it comprises, Tomb No. 2 is that of Marquis Quan Li Cang, the administrator of the then district of
Changsha
at the beginning of the Western
Han
(BCE 206 - CE 009) Dynasty, Tomb No. 1 is that of the wife the Marquis, and Tomb No. 3 is that of the son of the Marquis. In other words, Ma Wang ("King Ma") is himself not buried here. This is not at all unusual, for rulers of ancient China, desirous of entering paradise intact - and also with their "booty" intact - and thus fearing grave robbers, often had several "decoy" grave sites made to confound the grave robbers who would surely arrive one day.
More than 3000 objects have been unearthed from the Mawangdui
Han
Tomb complex. Among the objects mentioned above are some 500 lacquer works that are as luxuriant and shiny today as when they were first created, as well as numerous silk paintings that are the earliest works hitherto discovered depicting daily life as it was lived in the
China
of the period in question.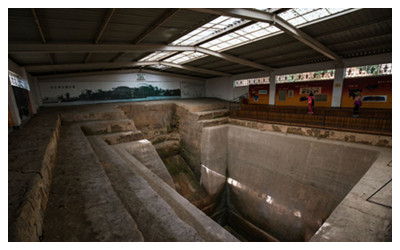 The physical surroundings of the museum as well as its tasteful mix of old and new architecture contribute to the overall positive impression that a visitor takes away on a visit to Hunan Provincial Museum.Hunan Provincial Museum, located in the city of Changsha, Hunan Province, has five permanent exhibitions in its permanent collection, among which the Mawangdui Han Tomb exhibition is the driving force of the museum's permanent collection.Indeed, the museum has become the landmark of the city of Changsa.
Moreover, the Mawangdui Han Tomb collection has put the city of Changsa not only on the map of
China
, but also on the world map, as foreigners who have visited China - or who plan to do so - mention Mawangdui Han Tomb, together with the Great Wall and the Terracotta Army (the Terracotta Warriors and Horses of the city of Xi'an, in Shanxi Province), as absolutely must-see sightseeing visits.
---
Travel Tips
Add: No. 89,Guhan Road, Furong District,Changsha City 长沙市芙蓉区古汉路89号
Opening Hours: 09:00-17:00
Entrance Fee: CNY 50
Tel :0731-84538605