---
Tianxin Pavillion
---
Tianxin Pavilion, also known as Tianxin Park, is located in on the top of Longfu Mountain, the highest point of Changsha City.Being the old city tower of Changsha, Tianxin Pavilion is the only remaining symbol of ancient city.
---
History of Tianxin Pavillion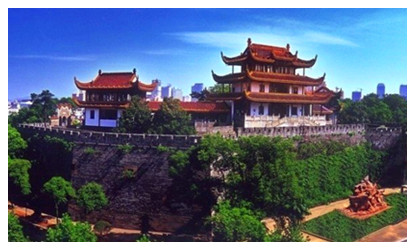 Tianxin Park was constructed in 1924; the present area occupied is 30,000 square meters. Its main spots are classical and elegant. For example, the grand "history cultural celebrities decorated engraving gallery", has collected multitudinous historical celebrities engravings for a period of more than 3,000 years; The "Peaceful Military spirit" giant group sculpture, illustrating the historical picture of the Taiping Heavenly Kingdom peasant uprising attacks in Changsha. In the garden the flowers and trees are luxuriant, scattering around the pavilion situated in it, forming a nice contras. Plants popping out making enhancing the scenery, the embellished pavilion and the pond water, the big and small winding path linked up in the green bamboo and flower, making the finite space to contain infinite in poetic and artistic flavor.
---
What to see ?
Standing at the Tianxin Pavilion, tourists can have a panoramic view of whole city; and strolling in the park, tourist can find citizens do morning exercises, such as performing a sword dance, doing yangge dance of playing taijiquan.
The Ancient Wall
The Ancient Wall beneath Tianxin Pavilion, an essential military fort of Ancient Changsha, was originally built in the fifth year of the West Han Dynasty' Emperor Gaozu (B.C 202) with over 2,200 years of history, playing a magnificent role in studying city-protection projects of ancient China. 
Zhonglie Pavilion
The processors of Zhonglie Pavilion were Wupao and National Humiliation Commemoration Pavilion. The inscribed board of the pavilion was written by Mr. Jiang Jieshi.
Zhonglie Gate
Zhonglie Gate was originally donated by Jiang Jieshi, Chen Cheng and Zhang Zhizhong for commemorating martyr laying down in "Jinan Tragedy" and Changsha Three Great Battles during the anti-Japanese period.
Ancient Tianxin Pavilion
The landmark of Ancient Changsha— Tianxin Pavilion with over 400 years of history stands on the ancient rampart of Changsha, ever enjoying the reputation of Ancient Pavilion of Hunan. The whole unsophisticated pavilion, without any flourish ornaments and in a dense and bold color, is a particular southern gardening building in the Ming and Qing Dynasties.Xixiang Park of Tianxin Pavilion has vigorously upgraded its historical and cultural areas to recreate an ancient town of the late Qing Dynasty and the early Republic of China near Tianxin Pavilion.
---
Travel Tips
Add: Tianxin Park in Changsha City, Hunan
Entrance Ticket: CNY 35
Opening Hours: 08:00-18:00
Visiting Hours: 1-2 hours
---