Remark:
Tonight, you can also be charge USD 50/pax by yourself to enjoy the famous show --
Charm Western Hunan
Meals: Breakfast / Lunch Accommodation: In Wulingyuan
---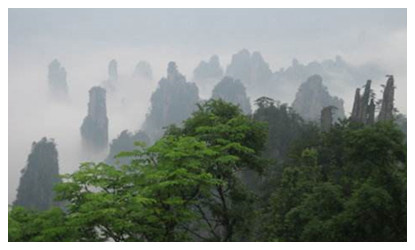 After breakfast at hotel, transfer to take
Bailong Elevato
r up to
Yuanjiajie Scenic Area.
Yuanjiajie is also called AVATAR Mountain for the movie AVATAR is filmed here. Located in the northwest part of the Zhangjiajie National Forest Park, Yuanjiajie is a naturally formed platform mountain, surrounded by higher summits which are divided by deep valleys. You will enjoy Hallelujah Mountain, NO.1 Bridge in the world and so on.After lunch, take bus about 40 minutes driving to He Long Park, and visit
Tianzi Mountain.
Tianzi Mountain is known for 4 natural spectacles, the clouds of mist that circle the peaks of the mountain, the amazing views of the rising sun, the moonlit nights and snow capped winter peaks. They include more than 80 natural platforms to take in the magnificent scenery. Then take Tianzi Mountain cable car down and continue to visit Ten-mile Gallery by trams in Suoxiyu Scenic Spot.
Remark: Your tour guide can decide if you visit Yuanjiajie at first or Tianzi Mountain at first so as to get rid of a long time waiting for a line when you take Bailong Elevator and Tianzi Mountain Cable way.
Meals: Breakfast / Lunch Accommodation: In Wulingyuan
---
Day 4: Zhangjiajie (Tianmen Mountain)-Chengdu by flight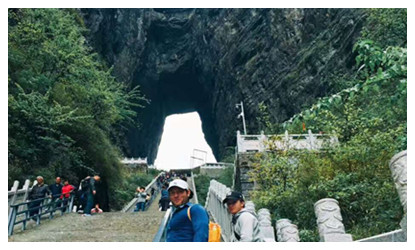 After breakfast at hotel, you will visit Tianmen Mountain National Forest Park by cable cars. Tianmen Mountain is praised as "the Soul of Zhangjiajie". With 1518 meters above sea level, it is standing at the site of 8 km south away from Zhangjiajie Downtown.Today you can explore the six wonders of Tianmen Mountain,including Tianmen Cave, Tontian Avenue, The Ghost Plank Road, Glass Skywalk, Tianmen Temple, etc. Then take flight to Chengdu,Arriving in Chengdou,your local driver will pick you up from airport and transfer to hotel.
Meals: Breakfast/Lunch Accommodation : In Chengdu
---
Day 5: Chengdu-Huanglong-Jiuzhaigou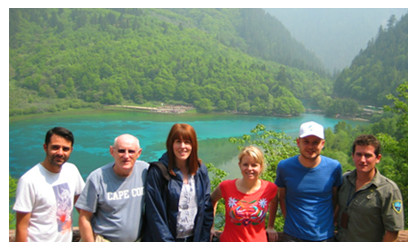 Today after breakfast, your tour guide will escort you to Chengdu Shuangliu International Airport to catch your flight to Jiuzhai Huanglong Airport. Upon your arrival the airport, the local guide will meet you at Jiuhuang Airport and escort you to visit Huanglong National Park.
Famous for incredible calcified scenery, Huanglong is a 7.5 kilometers long, 1.5 kilometers wide gentle-slope valley on the Xuebao Peak (Xuebao Snow Mountain). Vast yellow travertine landforms exist in the valley, and look like a yellow dragon. This is how the valley gained the name as Huanglong (Yellow Dragon). The travertine scenery was created by the thousands years of geological evolution, including glacial revolution, terrane movement, chemical reaction, climate changing, etc. It covers a total length of 3.6 kilometers. At the top(3990m) of the valley lies the best highlight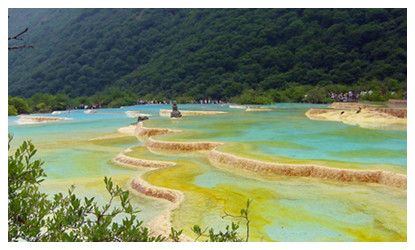 - Five-Color Ponds consisting of 693 ponds of different sizes, shapes, colors, just looking like beautiful emeralds.
To save your energy and time, you will take a quick and convenient cable car directly to the top, and then walk down the valley to enjoy the scenery. After about 4-hour sightseeing in Huanglong National Park, you will drive about two hours to Jiuzhaigou. Stay overnight in Jiuzhaigou.
High Altitude Tips:
since the attractions of Huanglong National Park are located more than 3,000 meters above the sea level, travelers should prepare well for the high altitude sickness. Keep a good healthy condition before your tour and rest well especially the first night of arrival. When walking in the valley, don't go too rush. If you feel hard to breathe, you can stop in the tourist service center to rest and get oxygen supply.
Meals: Breakfast/Lunch Accommodation : In Jiuzhaigou
---
Day 6: Jiuzhaigou Velley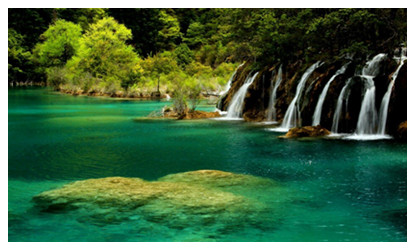 Today, get up early, and throw yourself into the fairyland Jiuzhaigou Valley which is well-known not only as a national park, but also a UNESCO World Heritage. Having been hidden as a mysterious and never been bothered by outsider until been found in the middle of 20th century, all the forests, lakes, waterfalls, landforms in the national park still remains the wild original looks. It gets its name from having Nine Tibetan Fortified Villages in the region.
Jiuzhaigou is known for having the most beautiful waterscape in China which is hidden in three beautiful valleys - Rize Valley, Shuzheng Valley and Zechawa Valley. It presents various color patterns of white, blue, green, turquoise and emerald in different season. According to the statistics, there are 114 lakes, 47 springs, 17 groups of waterfalls, 11 rapids and 5 tufa shoals within three valleys. Regular travel route is to visit the Shuzheng Valley after entering the park, next go to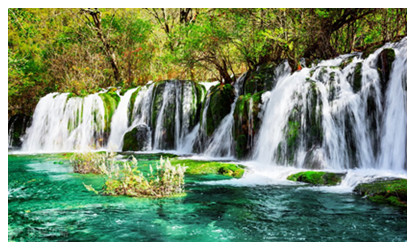 Zechawang Valley on the west, and last tour the Rize Valley. Planking roads connect one small attraction to another in each valley if you want to have some leisure walking. There are alsosightseeing bus you can take if you want to save energy and time.
Useful Tips:
1) the cost for sightseeing bus is covered in the package;
2) if you want to have an in-depth Jiuzhaigou tour, you can plan a Two Days Walking Trip - Shuzheng Valley and Zechawa Valley for the D1 and Rize Valley for the D2.
Meals: Breakfast/Lunch Accommodation : In Jiuzhaigou
---
Day 7: Jiuzhaigou-Chengdu By flight
After breakfast, your guide will pick you up from the hotel to the airport in time for the scheduled flight to Chengdu. Before that, you can take a rest at the hotel or go for a walk nearby.
Meals: Breakfast/Lunch Accommodation : In Chengdu
---
Day 8: Chengdu-Departure
On this day, you will visit the
Chengdu Research Base of Giant Panda Breeding
to spend a cheerful morning with these lovely pandas, followed by a trip to the
Wenshu Temple
where you can spend some time sitting in its
tea house
enjoying a cup of traditional Chinese tea and absorb the special atmosphere of Chengdu and
Jinli Old Street
.
In the evening, you can choose to enjoy
Sichuan Opera
to admire the unique face changing skill in it.
Your local guide escorts you to the airport for your flight to your next Destination
Meals: Breakfast/Lunch