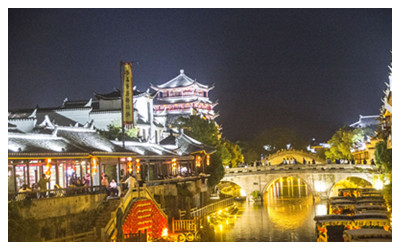 Formerly, most Chinese people's impression of Hefei was that of a small, poor city in southeast China. But nowadays, through economic development, it has become a vibrant city where, after a day's work, people enjoy a rich and colorful nightlife. Generally speaking, tradition and modern lie side by side and leisure and romance are two words that can best summarize the night life. Wandering along the streets at night or sitting in the moonlight sipping tea or coffee. How romantic!
At night, traditional 'culture vultures' can enjoy a theatre performance of Lu Opera performed by Lu Opera Troupe of Hefei City. This excellent show is not to be missed. The well-known repertoire of Lu Opera plays are Li Qingzhao, Baishezhuan, Shuangsidai, Jieluoyi, etc. If you are in a more aesthetic mood, People's Film & Video Recreational Center located in No.16 Quxi Road is a good choice. These can be reached by bus No.12, 14, 22, 25, 104, 107, 112, 114, 120, and 121. There are many recreational areas including a luxurious cinema, concert hall, musical tea room and a pub. A similar venue, Changjiang Showplace, is the Endsville recreational center in the city. Moreover, Huachong Showplace has additional leisure activities such as Roller-skating hall, billiards hall, chess & card room and rock-climbing wall.
Tea House
Drinking tea is indispensable in Chinese daily life. It is well known that Anhui Province is famous for its tea production. So, when visiting the city, the capital city of Anhui, tea-tasting at a tea house, especially at night, is crucial. The following is some tea houses' address:

Guyu Tea House
Address: middle district along Huizhou Road
A Qingsao Tea House
Address: No. 60, Lujiang Road
Pub
YY Face Bar
Address: No. 77 Ma'anshan Road
Getting There: take bus No. 106, 134, 137, 226, 235 and 902.
Café
U.B.C. Cafes
Address: No. 93 Shouchun Road
Getting There: take the bus No. 2, 15, 25, 46, 102, 106, 118, 129, 131 and 132.
Kangni Cafes
Address: No. 268, Jinzhai Road
Getting There: take the bus No. 10, 12, 13 16, 18, 10,105, 110, 112, 113 and 123.
New York Western-style Food & Coffee House
Address: No. 450 along Meiling Avenue
Getting There: take bus No. 4, 5, 11, 14, 27, 31, 104, 105, 109, 111, 113, 117, 119.