Hengyang has achieved great developments and now it has turned into the national modern logistics hub city and is one of the Top 50 Informationaized City again after 2008, becoming the only city who continuously won the award in Hunan province. Hengyang is not only the regional logistics center ,but also the center of Northern part of South China(Southern Hunan, Southern Jiangxi, Northern Guangdong, Northern Guangxi).
Hengyang Facts
Area: 15,302 square kilometers (about 5,908 square miles)
Position: to the south of Mt. Hengshan in Hunan Province and in the middle reaches of Xiangjiang River
Residents: about 7,180,000
Nationalities: Han and ethnic minority groups such as Yao, Miao, Tujia, Mongolian, Bai, etc.
Zip Code: 421000
Hengyang is a city with a long history. According to historical relics, ancestors who settled in the area as early as five to six thousand years ago had already begun to use primitive tools made from stones. They also grew rice and raised animals, chiefly cattle and pigs.The primeval district of Hengyang was first occupied by the ancestors of the modern Miao, Zhuang, and Hakka people. In the Warring States period, it was a much-fought-over territory of the Chu State.
---
Geography
Hengyang stretches from 110°32′16″ to 113°16′32″ east of longitude and from 26°07′05″ to 27°28′24″north of latitude, covering a total area of 15,310 square kilometers. It is bordered by the cities of Zhuzhou, Youxian and Anren on the east, Yongxing and Guiyang on the south, Lengshuitan, Qiyang, Dongan, Shaoyang and Shaodong on the west and Shuangfeng and Xiangtan on the north. The width of the city from east to west is about 173 kilometers, and the length from north to south is about 150 kilometers.The Xiang River, the longest river (226 kilometers) within the city`s boundaries, runs through almost all the surrounding counties.
---
Administratives
There are five districts, two cities and five counties under Hengyang City's governance. The districts are Nan Yue; Yan Feng; Zhu Hui; Shi Gu and Zheng Xiang. The cities are Changning and Leiyang. The counties are Hengnan; Hengyang; Hengshan; Hengdong and Qidong. Due to its advantageous location adjacent to Guangdong Province and near the Xiangjiang River, the city has been a major commercial center since ancient times. It also has excellent transportation systems.
The built-up urban area and urban population of Hengyang is second only to Changsha. In 2009 the urban area of Hengyang covers 120.5 square kilometers, and the permanent population living in the urban area is about 1.208 million.
---
Climate
Hengyang enjoys a subtropical monsoon climate. There is neither intense heat in summer nor severe cold in winter. The annual average temperature is about 17.9℃. Its temperature is relatively higher in spring and autumn, which is very pleasant. Annually, the city has 1524 hours.
---
Hengyang Tourism
Hengyang has rich natural resources, famous as "the home of non-ferrous metals and non-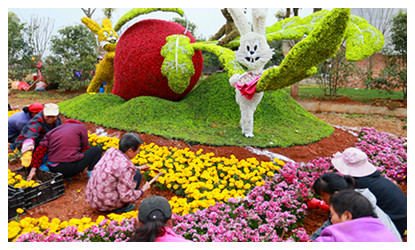 metallic", "a land of fish and rice" and "the holy land of tourism". The proven mineral resources has 60 kinds, including gold, silver ,copper, iron ,lead ,zinc coda ,rock salt, kaolin ,sodium and feld. The reserves of albeit is the biggest in Asia. Borax is exclusive in southern China. Kaolin's reserve is richest in China .the reserve of rock salt is highest in South China. In addition, Hengyang is the important production base of national commodity grain, pigs, fish, and oil. Its agricultural production have great fame all over the world,such as qualified rice, living pigs, daylily ,Hunan yellow chicken, Huzhi wine, Yunwu tea, and Longxu mat. Nanyue Heng Mount is the national 4A landscape and famous scenery, knownas the"the most special one in the top five mountains in China"and "civilized regions ".The religious culture that Buddhism coexisted with Taoism is particular in religion in China .Nanyue Heng Mount has beautiful scenery,mixed with "beauty, depth, quietness and riskiness".
In recent years, Hengyang has successfully held Cailun Technology Invention Festival and China Nanyue Heng Mount Longievity Cultural Festival.