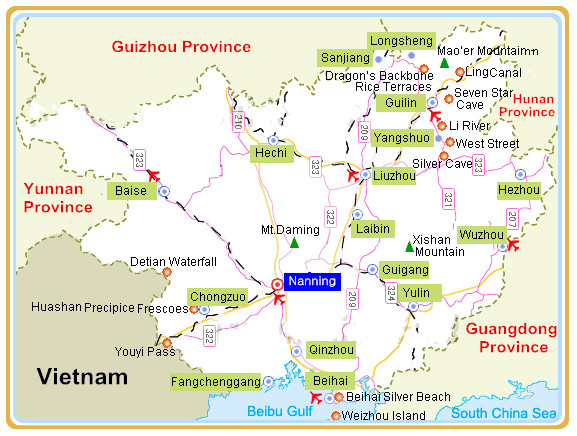 Sanjiang County is located in the north area of Liuzhou City, Guangxi Zhuang Automomous Region. Lying at the middle beaches of the Xunjiang River, Sanjiang County is situated in the joint area of the three provinces: Hunan, Guizhou province and Guangxi Zhuang Autonomous Region. Because of its beautiful and myterious Dong ethnic villages and Dong ethnic minority culture, Sanjiang county has become a popular destination for tourists from home and abroad in recent years.
Facts of Sanjiang
Chinese Name : 三江县 ( Sân jîang xiàn)
Location: in north of Liuzhou City, Gaungxi Region
Area:2,454 square kilometers
Population:3,677,000
Natinalities: Dong,Maio,Yao,Han,Zhuang
Administrative Division: 3 towns (Guyi, Danzhou, Doujiang), 12 villages (Heping, Dudong, Bajiang, Linxi, Chengcun, Laobao, Liangkou, Yangxi, Meilin, Tongle, Fulu, Gaoji)
---
What to see in Sanjiang?
Sanjiang is an autonomous county of the Dong people in Liuzhou City, Guangxi. It is renowned for the unique wind and rain bridges and the Dong-style drum towers. The most notable bridge there is the Chengyang Wind and Rain Bridge and the most attractive drum tower is the Mapang Drum Tower. Additionally, the Dong people's Diaojiaolou (the local residential house) is well worth seeing. Please see the top attractions in Sanjiang listed as below:
---
When to visit Sanjiang?
Sanjiang Climatic Features: subtropical humid monsoon climate; with enough sunshine of more than 1600 hours annually; mild; with long frost-free period of more than 300 days. Average Temperature is annual average temperature of 17-19C.
The best time ti visit there in March - November. The building of the Dong nationality, March the third Festival, Fireworks and Firecrackers Festival.
---
How to get there?
Sanjiang is a county located in the north of Guangxi Province, under the administration of Liuzhou. It has two train stations for passenger service: Sanjiang South Railway Station (SanjiangNan Station, 三江南站) for high speed rail service, and Sanjiang County Railway Station (SanjiangXian Station, 三江县站) for regular rail service (slow train). The distance between the two stations is around 20 kilometres.
Visitors can get to Sanjiang County by bus or train from Liuzhou, Zhangjiajie,Guilin or other cities in China. Around 20 pairs of high speed trains are available for passengers running from Guilin to Sanjiang or from Sanjiang to Guilin. It takes around 0.5 - 1 hour to finish a total distance of around 87 - 107 kilometers. The ticket price for a second class seat is around CNY 21 - 39.5.
---
Sanjiang Travel Tips
Useful Telephone Numbers:
Tourist Complaints: 0772-2821364
Weather Forecast: 121
Zip Code Inquiry: 184