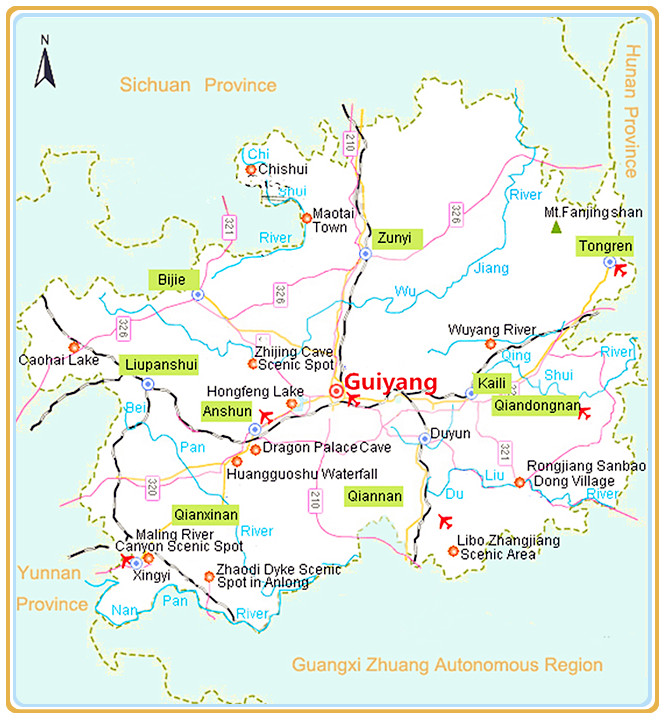 Liupanshui City, the joint of the four provinces of Yunnan, Guizhou, Guangxi and Chongqing, is a municipality under the jurisdiction of the Guizhou provincial government. It is also a developing industrial city relying on the mainstay of coal, electricity, metallurgy and building materials.This city is taking on a new look of a plateau booming city with old veil taken off and miraculous and beautiful hills and waters. The karst topography, old ashes, the brilliant national customs and culture of more than 30 minorities are living there to attract tourists worldwidely.
Facts of Liupanshui
Chinese Name: 六盘水(Liǜ pán shuǐ)
Location: Located at the joint of the four provinces of Yunnan, Guizhou, Guangxi and Chongqing
Area: 9,926 square kilometers
Population: 2.83 million
Nationality: Miao,Buyei,Dong,Yao,Yi,Dai,Han
The city of Liupanshui has four counties which are Liuzhi special zone, Panxian county, Shuicheng county(Water county)and Zhongshan district under its jurisdiction including three Open Economic Zones: Zhongshan, Hongguo, Pinzai and a manufacturing district: Shuangshui.
---
History of Liupanshui
The area of Liupanshui was a part of Yelang Kingdom in ancient times. The city of Liupanshui was founded as a basic area of coal.I became a prefecture-level city under Guizhou Province in 1978.
The name Liupanshui combines the first character from the names of each of the city's three constituent counties: Liuzhi, Pan and Shuicheng. As a prefecture-level city,the city is known locally as the "Cool City" or "Cool Capital" due to its low average summer temperature.
---
What to see in Liupanshui
Not only that, but the area's tourism is still in its early stages, meaning there's no better time to get an authentic look at what living in China is like and appreciate the unchanged traditions and culture the province has to offer. As Liupanshui is warming up to be a tourist hotspot in coming years, we created this list top attractions you have to do when you next head to Guizhou!
---
When to visit Liupanshui?
Liupanshui, the second largest city in the province, is located in the Wumeng Mountains of western Guizhou. It is famous in China for its cool, comfortable summers. With an average temperature of 19 degree Celsius, Liupanshui is the perfect place to escape the scorching summer heat.
Liupanshui has a popular name called "Cold Capital". The climate is in the north subtropical monsoon humid climate zone. There is no hot in summer, no cold in winter, sufficient sunshine and abundant rainfall. The overall temperature change of Liupanshui is very small, with an average annual temperature of 12.3 °C -15.2 °C. In July and August, when the province has the highest temperature, its average daily temperature is only 19.8 °C, and the temperature in the mountain is lower. Therefore, it can also be said that in Liupanshui, after spring, it is autumn.
---
How to get there?
By Air : Liu Panshui Yuezhao Airport (ICAO: ZUPS; IATA: LPF) was officially opened in 2014.The distance between the airport and the city center of liupanshui is 10.5. Kilometers.At present, domestic routes such as Beijing, Shanghai, Guangzhou, Wuhan, Kunming, Guiyang, Hangzhou, Changsha, Xi'an, Fuzhou, Shenzhen, Chongqing, Zhengzhou and Tianjin have been opened.
By Train: Liupanshui Railway Station is in Shuibei Road, Zhongshan District of Liupanshui City. The Guikun Railway passes through Liupanshui, and trains from many places to Kunming stop here. Guiyang and Anshun have trains to Liupanshui. The city train from Guiyang to Liupanshui was sent out from Guiyang every morning, and returned to Guiyang from Liupanshui in the afternoon. It only took 3 hours and 20 minutes in one way, and the fare was 35 yuan.
By Bus: From Guiyang and Anshun to Liupanshui are very convenient.The bus station in Liupanshui City is located in Renmin Middle Road of Shuicheng City, with buses to all parts of the province. Some shifts are as follows:
Liupanshui - Guiyang (via Zhuzang Town), 09:40. It is an hourly train, but it does not pass through Zhuzang Town.
Liupanshui - Bijie, 07:00, 08:00, 14:00, 16:00;
Liupanshui - Weining, one hour per hour, the fare is 15 yuan, two and a half hours.
Liupanshui - Yunnan Zhaotong, 07:30, 07:00, 08:00.
Liupanshui (Shuicheng) Passenger Station Information Telephone: 0858-8223516
Liuzhike Station Information Telephone: 0858-5322243
Panxian Bus Station Information Telephone: 0858-3222118
---
Liupanshui Travel Tips
Dining in Liupanshui: You'll also get a chance to try some delicious local food. In the Changjiaomiao village, visitors can watch how the Changjiaomiao make local rice cakes and even have a go. There are many culinary delights to try on Food Street including dumplings, rice cakes and spicy noodle dishes.