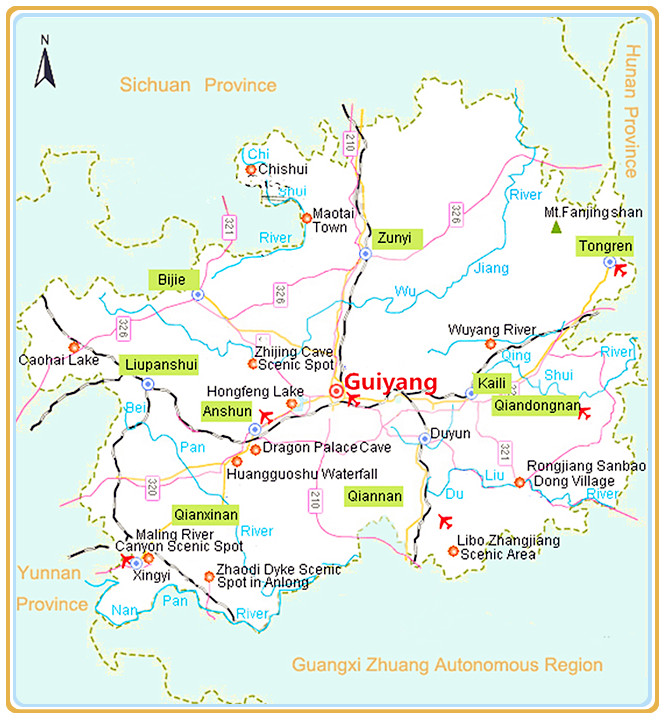 Kaili City is located in the west of Qiandongnan Miao and Dong Autonomous Prefecture, in the southeast part of Guizhou Province. It is 197 km from Guiyang and 45 km from Leishan County. Kaili is the capital of the Qiandongnan Miao and Dong Autonomous Prefecture, and the political, economic, and cultural center of the prefecture. It is the fifth largest city in Guizhou Province. It has a population of 552,000, of which minority groups take up 74 %.
Facts of Kaili
Chinese Name: 凯里 (kãi lî)
Location: capital of Qiandongnan Prefecture in South-eastern Guizhou Province
Zip Code: 556000
Area Code: 0855
Nationalities: Miao, Han, Dong, Mulam, She, Bouyei, Shui, Yi , Zhuang, Wa, Dongxiang, Gelao
---
History of Kaili
Kaili has a history of over 500 years. During the Ming and Qing Dynasties, it prospered and was regarded as "Little Jingzhou" (as prosperous as the capital city at that time). In 1951, Kaili Miao People Autonomous District was founded. In 1956, it was selected as the capital of the Qiandongnan Miao and Dong Autonomous Prefecture, transferring to Kaili City in 1983.
---
Ethnic Minorities in Kaili
Kaili is an area where a number of minority nationalities live such as the Bai, Dai, Miao, Yi, Zhuang, Naxi, Hani. Among them, the Miao is the largest group, accounting for 67% of the whole population of the area, followed by the Dong. These ethnic minorities enjoy unique customs in clothing, style of residence, food, daily activities, and festivals (as many as 135). Some of the most famous festivals and activities include the International Lusheng Festival, Sparkler - grabbing Competition, bullfight, cockfight, bird fight, and the Guizhou Tour of Leigong Mountain International 100km Ultra Trail Challenge. All these make it a great place to taste the unique customs of Chinese ethnic minorities. In addition, the area boasts rich cultural relics and charming natural scenery.
Highlights in Kaili:
Welcoming Wine: When visiting a Miao People's Village, you cross twelve barriers on your way to the village entrance. At each barrier, there stand a few young people holding two bowls of wine and waiting to propose a toast to every visitor. If you are not a good drinker, you can just bend down to take a little sip and say: "Dou Shen Mo" (Thank you in Miao language), and you will pass the barriers.
Lusheng Singing and Dancing Show: Lusheng is a kind of wind instrument made of reed pipe. The Miao People and Dong People love it very much. People play the Lusheng during festivals and celebrations.
The Medicated Bath of the Yao People: Yao people takes medicated baths on the 1st, 11th, 16th, 21st, and 26th days of each month of the Chinese Lunar Calendar. There are over 10 herbal medicines in the bath water, which are believed to be good for health.
---
What to see in Kaili?
Kaili is located at the transitional zone between Yunnan-Guizhou Plateau and the Middle Hilly Area, on the river bank of the Qingshui River. There are many attractions in Kaili.
---
When to visit Kaili?
Kaili enjoys a mild climate as it is part of the subtropical humid monsoon climate zone. July is the hottest month with an average temperature of 25°C (77°F); January is the coldest with an average temperature of 5°C (41°F). The average annual temperature is 14°C (57.2°F) - 18.5°C (65.3°F). Hence it is suitable to travel here all year round except winter. There is a saying: "There never were three sunny days in a row in Guizhou". This is especially true in Kaili, where it rains about half the year. Generally, it rains the least in December, January, and February, and the most in May and June. Remember to bring rain gear with you if you travel in the rainy season. Situated on the eastern edge of the Yunnan-Guizhou Plateau, the altitude of the region is comparatively high. Sunglasses and sunscreen are also necessities of travel. If you plan to go to mountain areas, hiking shoes or mountaineering shoes are good choices. Also, the mountain areas are cold at night; bring a warm coat with you.
---
How to get to Kaili?
By Air
There is no airport in the city. Visitors traveling by air can get to Guiyang Longdongbao Airport, and take the airport shuttle bus to the Civil Aviation Ticket Office at Zunyi Road. Walk southward along the road to the Guiyang Gymnasium Long-distance Bus Station to take a bus to Kaili.
By Train
Kaili Railway Station and Kaili South Railway Station is located at the Qingjiang Road. Visitors can take regular trains from/to Beijing, Chongqing, Guangzhou, Guiyang, Hangzhou, Wuchang, Kunming, Nanjing, Wenzhou, Xiamen, and Zhengzhou. Visitors from other cities can get to Guiyang by train, and transfer to the Fanjingshan Tourist Special Train traveling between Guiyang and Yuping, and get off at Kaili. The journey from Guiyang to Kaili takes about 3 hours and costs CNY 24. Bus Routes to Kaili Railway Station: Bus No. 1 & 2; ticket: CNY 1.
By Bus
Long-distance Bus Station: There are three long-distance bus stations in the city: Kaili Long-distance Bus Station, Ximahe Qiandongnan Prefecture Long-distance Bus Station, and Kaili Transportation Company.
Read More: Guiyang Transportation, Qiandongnan Transportation
---
Kaili Travel Tips
Special Local Products: Brocade of Dong Minority, embroidery, silver ornaments, Sizhou Inkstone, watermelon, Leishan Yinqiu Tea (tea ball).
Local Food: Fish in Sour Soup, salted fish, oil tea, pickled vegetables and salted meat.
Shopping in Kaili : There are many big shopping malls in the city center, including the Linmao Mansion, Oriental Mansion, and Jiahui Shopping Center. You can find many local specialties in the super market on the second floor of the Jiahui Shopping Center. If you are lucky, you may discover some delicate small articles at the outlets on the street.