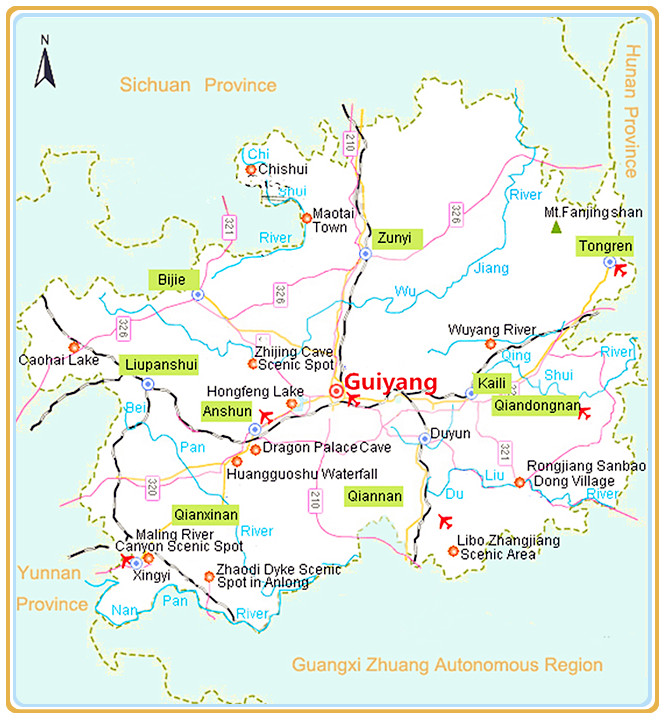 Guiyang City, capital of Guizhou Province, is located in the southwest of China, on the eastern side of the Yunnan-Guizhou Plateau. It is a transfer point between most China cities, and the various ethnic minorities' villages in the province. It is said that in ancient times, the city of Guiyang was surrounded by dense bamboo groves, and was famous for producing a musical instrument known as Zhu (筑). Hence the city is also called Zhu (筑)for short.
Facts of Guiyang
Chinese Name: 贵阳 (guì yáng)
Location: south-central in Guizhou Province
Area:
8034 square kilometers
Population: 486 million
Nationalities: Maio,Dong,Tujia, Buyei,Hui, Han
Administrative: Guiyang City has 6 districts( Nanming,Yunyan, Huaxi,Wulan,Baiyun,Guanshanhu) and 3 counties( Kaiyang, Xifeng,Xiuwen)
---
History of Guiyang
During the Spring and Autumn Period (770-476 BC), Guiyang was originally under the jurisdiction of Zangke county. In the Warring States Period (475 – 221 BC), it was subordinate to Yelang state and then to Zangke prefecture in the period of the Western Han (206 BC – AD 24) and Eastern Han (AD 25 – 220) dynasties.
---
What to see in Guiyang?
Guiyang City is renowned for its colorful culture, represented by various ethnic groups and its special landform - Karst. Guiyang is home to more than 30 minority ethnic groups including, Miao, Buyi, Dong and Hui. Consequently, it abounds with unique folk culture and traditions that give rise to colorful ethnic minority activities. With many Karst caves, the city is even regarded as an ecological model on Karst Landform.
---
When to visit Guiyang?
Surrounded by mountains and forests, the city has pretty well environment. As in other Spring Cities; like Kunming, Guiyang is a popular summer resort city in China. The climate is often mild and moist, neither extremely hot nor cold. Spring, summer, and autumn are all wonderful seasons for sightseeing.
If you are lucky enough to visit in March or April, you can experience a lot of traditional Miao festivals. From April 30 to May 7 there is the Baiyun National Kites Festival and from June to August is the Hongfeng Lake Tourism Festival, lasting nearly two months. The best seasons for visiting the Huangguoshu Waterfall near Guiyang are summer and autumn when the scenery is the most splendid. The good weather means that travelers can visit at any time of the year. However, the best weather there is in late August.
---
How to get to Guiyang?
Nowadsy, it is very easy to get to Guiyang by air,train,and bus from any other big cities of China. Over 60 air routes connect Guiyang with major cities home and abroad, so flight is the most direct and fastest way to get there. Trains are also convenient. Bullet trains to
Guilin
, Nanning, and Guangzhou, and tourism trains to Liupanshui, Yuping are in operation. Taxis and subway are helpful for traveling around the city.
---
Guiyang Travel Tips
In 2018, Guiyang devoted itself to development and progress while maintaining stability and deepening supply-side structural reform.A good ecological and living environment, preferential investment policies, rich natural resources and a sound industrial base are attractive factors for worldwide investors in Guiyang.
Traditional festivals from different ethnic groups with distinctive characteristics highlight the city's appeal. Besides the traditional activities like San Yue San, Si Yue Ba, and Di Xi Festival, there are also many tourism festivals. The summer season festival's from May to August shows the city's special charm as a wonderful summer escape.