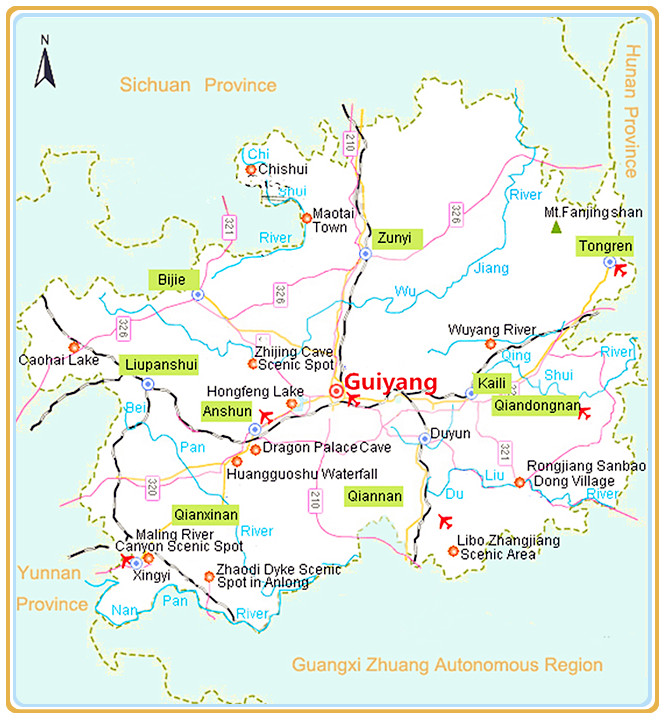 Located about 105 km from Guiyang, Anshun City has become the center of tourism for the western part of Guizhou Province.Lying directly on the route between Qian (Guizhou) and Dian (Yunnan), it has been the collection and distribution center for commercial goods since ancient times.
Facts of Anshun
Chinese Name: 安顺 (ãn shùn)
Area: 9,269 square kilometers (about 3,579 square miles)
Population: about 2,550,000 (until 2004)
Nationalities: Han and ethnic minority groups such as Miao, Buyi, Gelao, etc.
Area Code: 0853
Zip Code: 561000
Administrative: Anshun City has 2 districts (Xixiu District,Pingba District), 1 county (Puding County), and three autonomous counties (Guanling Buyi Minority and Miao Minority Autonomous County, Zhenning Buyi and Miao Minority Autonomous County, and Ziyun Miao Minority and Buyi Minority Autonomous County) under Anshun City's governance.
---
History of Anshun
Anshun has a long history dating back to the Western Han dynasty around 200 B.C.. There are two special kinds of culture which existed in Chinese history: Tunbao; and Yelang. Close to Anshun there is a large lake called Yelang. It is named after the famous Yeland Emperor. Yelang Emperor was the largest minority tribe in southeast of China in Western Han Dynasty. It existed for about 300 years since the Warring States. Tianlong Tunbao town is close to Anshun city. Tunbao is a town with a long history which includes eight small areas. Each one is connected with each other since it was a main war place from the period of Ming Dynasty(1368-1644).
---
What to see?
Anshun City borders Guiyang, the provincial capital, and Qiannan Buyei and Miao Autonomous Prefecture to the east, Liupanshui to the west, Qianxinan Buyei and Miao Autonomous Prefecture to the south, and Bijie to the north. Within the prefecture, the elevation ranges from 1,102 to 1,694 metres. The history of its trading center could be traced back to the 13th century, linking north and south China with areas as remote as Burma. Anshun is a multi-minorities region which is the home of Mulao Minority, Buyi Minority and Miao Minority. The colorful ethnic culture and customs are the most highlights of this region. It features in natural landscape, including the Huangguoshu Waterfall and Tianxingqiao Scenic Resort. Here lists top attractions in ANshun City.
| | | |
| --- | --- | --- |
| | | |
| Huangguoshu Waterfall | Dragon Palace Cave | Tianlong Tunbao Village |
| | | |
| Tianxinqiao Scenic Area | Anshun Wenmiao Temple | Guizhou Batik Museum |
---
When to visit Anshun?
Situated in East Asian subtropical monsoon zone, Anshun has a subtropical plateau monsoon climate. The climate here is pleasant and the annual temperature difference is not big: it is not so clod in winter and not so hot in summer, with four different seasons. The annual average temperature is between 14-16℃. The hottest month is July with temperature between 22-24℃. The coldest month is January, with temperature between 4-7℃. There is abundant rainfall, with annual precipitation between 1290-1380mm. Most rainfall of the year is concentrated in the summer.
The comfortable period in Anshun lasts 8 months (Mar. - Nov.). The average temperature in Anshun is between 14-16℃. You can wear normal suit when travel to Anshui. Huangguoshu Waterfalls' wet weather is in summer. In summer, the water in the waterfall is rich which makes the waterfall look magnificent. In winter, the water is less, and the temperature is under 10℃. The best season to visit Anshun should be July and August of each year.
---
How to get to Anshun?
Due to the Anshun's important position in the history of Guizhou, it was the earliest development area in Guizhou. Today, getting to and from the area is very convenient since the Qingzhen - Huangguoshu Speedway and the Huangguoshu Airport are both open for travelers. Thus a pleasant trip to Anshun should be no problem.
By Air: Huangguoshu Airport opened in 1970. It was renovated in 2001, and finished the reconstruction at 2004. The airport is located at the suburb of Anshun City. It has already operated fights from Huangguoshu Airport to Qingdao, Kunming and other cities.
By Train: Anshun is situated at the center of Southwest China. Its transportation is convenient. Gui Kun Railway runs though Anshun to Guiyang, Chuanqian, Qiangui, etc.. Special travel train "Huangguoshu" runs between Guiyang and Anshun, which enhances the connection of transportation in Guizhou Province.
By Bus: Guihuang Highway runs from Guiyang, Anshun to Huangguoshu. It just takes 2 hour to drive from Guiyang to Huanguoshu, which provide the convenience to tourists. Anxin, Anliu, Anbi Highways are also passing through Anshun.
Tourists could take long-distance bus in Guiyang Bus Station, which located at the opposite of Guiyang Railway station, to Anshun City. The ticket is 15 Yuan. The buses from Guiyang to Anshun depart in each 20min.
---
Anshun Travel Tips
Anshun Highlights :
Many types of local folk performances of the Buyi Minority and Miao Minorityare held daily - including the Tuanjie (comity) Dance and Bamboo Pole Dance, which the visitors can participate in, and the Di opera, which is praised as Living Fossil of Drama by foreign friends.
Useful Numbers :
Civil Aviation Anshun Booking Office: 0853- 3220247 (3224848)
Railway Station Enquire: 0853- 3293295
Passenger Transport (Long-distance Bus) Station Enquiry: 0853- 3222169
Tourist Complaint Telephone: 0853-3281747