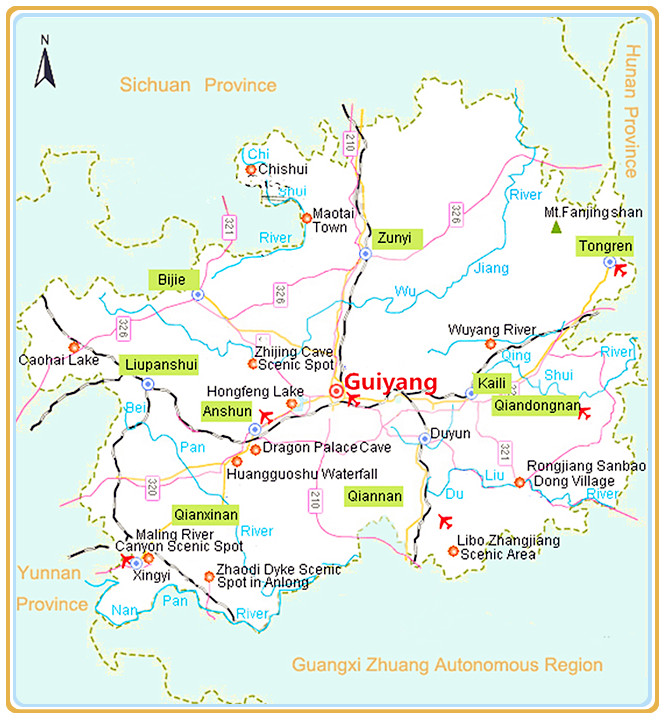 With its capital of Duyun City, Qiannan Buyei and Miao Autonomous Prefecture is located in the south of the Guizhou Province, neighboring Anshun and Qianxinan Buyi and Miao Autonomous Prefecture in the west, Qiandongnan Miao and Dong Autonomous Prefecture in the east. The capital city of the province, Guiyang only has a shared boundary on its north side. It also shares a boundary with Guangxi Zhuang Autonomous Region in the south.
Facts of Qiannan
Full Name: Qiannan Buyi and Miao Autonomous Prefecture
Chinese Name: 黔南布依族苗族自治州 (qián nán bù yī zú miáo zú zì zhì zhōu)
Population : 3,974,000
Area: 26,195 square kilometers (10,115 square miles)
Nationalities: Han, Buyi, Miao, Shui
Administrative: 9 counties (Libo, Guiding, Weng'an, Dushan, Pingtang, Luodian, Changshun, Longli, Huishui); one autonomous county (Sandu Shui); 2 county-level city (Duyun, Fuquan)
Seat of the Prefecture Government: Wenhua Lu, Duyun City
---
History of Qiannan
From the Shang Dynasty (16th - 11th century BC) to the Zhou Dynasty (11th century BC-221BC), several kingdoms established by local ethnic groups shared the prefecture. During the Qing Dynasty (1644-1911), it partly belonged to Guiyang. Qiannan Buyi and Miao Autonomous Prefecture was authorized in 1956 with Duyun as its capital.
---
What to see in Qiannan?
Located on the slopes of the southeastern Yunnan-Guizhou Plateau to the hilly regions of Guangxi, Qiannan declines from northwest to southeast. Mountains and hills constitute most of the terrain with an average altitude of 997 meters. Here lists top attractions in Qiannan.
| | | |
| --- | --- | --- |
| | | |
| Xiaoqikong Scenic Area | Daqikong Scenic Area | Guizhou FAST |
| | | |
| Maolan Karst Forest Conservation | Jianjiang River Scenic Area | Shuichun River |
The thirty ethnic minorities living in Qiannan Prefecture make up more than fifty-six percent of the total population. Between these Buyi and Miao are the principal minority groups. In the Miao Region, one can experience the most attractive scenery and customs of the minority. In addition, the prefecture also gathers together ninety percent of the Shui ethnic minority's total population in China. Sandu is China's only Shui minority autonomous county.
---
When to visit Qiannan?
Qiannan enjoys a subtropical monsoon climate, and the weather is temperate and humid with an annual average temperature of 13.6-19.6°C (56.5-67.3°F). Generally, it has neither a chilly winter nor a torrid summer. The rainy season and highest temperatures occur in summer.
June to August is the best season to visit that place. The maximum temperature of this period may reach 34°C (93.2°F). However, the weather varies greatly between day and night due to its location, and the sun is strong at midday.
---
How to get to Qiannan?
Duyun City,capital of Qiannan Prefecture, is one hour's drive from Guiyang Longdongbao International Airport. Libo Airport is Located in the Shuirao Town of Libo County, and was formally opened in October 2007. Flights to Guiyang, Guangzhou and Changsha operate from here. It is only a forty minute trip from Libo to Guiyang.
Main bus stations in Duyun City, the capital of Qiannan prefecture:
Qiannan fast passenger transport bus station: No138, Jianjiang Zhong Lu, Duyun City
Duyun long-distance bus station: Longshan Da Dao, Development Zone, Duyun City
---
Qiannan Travel Tips
Shopping in Qiannan: Shui Mawei (Horse Tail) embroidery, garments and ornaments of the Shui ethnic minority in Sandu Shui Autonomous County, presents painting of Longli County, silver ornaments in Libo County, and Maojian tea.
Festivals in Qiannan: The Buyei, Shui, Miao and Yao are the four principal minorities of the area. Traditional festivals and customs as well as characteristic residential buildings add yet more charm to this beautiful tourist destination.