---
Shaoyang Travel Guide
---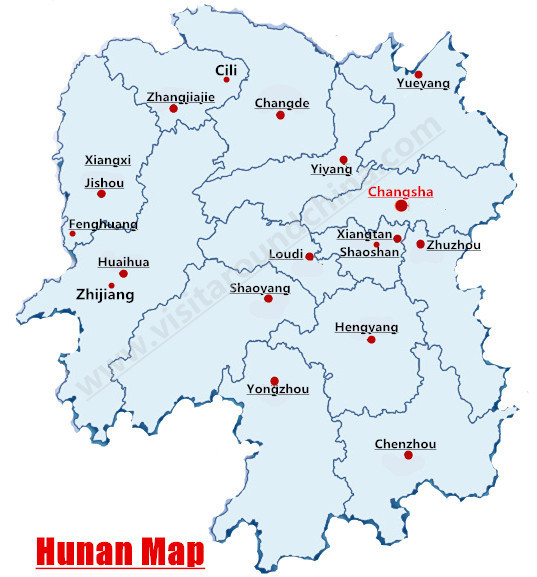 Shaoyang, the gateway of the southwest, situated in the south center of Hunan province. The city of Shaoyang is located in the southwest of Hunan Province, Zijiang and Shaoshui are the main rivers, passing through the city. It has the most population and second largest land area among the cities in the province. Nabu County is seated next to Guangxi in the south and not far away from Longsheng. As a beautiful city, Shaiyang has always been the important city of Hunan for 2500 years.
Shaoyang Facts
Chinese Name: 邵阳市 (shào yáng shì)
Location:
in the south center of Hunan province
Population: 7,300,000
Area: 20,829 square kilometers (8,042 square miles)
Nationalities: Han, Miao and other 38 ethnic minorities
Administrative Division:
3 districts (Shaungqing, Daxiang, Beita); 7 counties (Shaodong, Shaoyang, Xinshao, Longhui Dongkou, Suining, Xinning); 1 autonomous county (Chengbu Miao); 1 county-level city (Wugang)
Seat of the City Government:
Chengbei Lu, Shuangqing District of Shaoyang City
---
History of Shaoyang
The area was called Baoqing in history. The earliest city was established here 2,500 year ago, during the late Spring and Autumn Period. Among the total thirty-six administrative areas in the Qin Dynasty, it was governed by Changsha and belonged to Lingling in Eastern Han Dynasty. During the Three Kingdoms Period, Lingling was divided into northern and southern parts and Shaoyang was just the heart of north region...more read:
Culture of Shaoyang
---
What to see in Shaoyang?
Shaoyang lies in the transition area from hilly area to plateau. Branches of Naling Mountains and Xufeng Mountain stand in its south, west and north. Hills and basins are distributed in the central and eastern parts of the city. Generally, the terrain declines from the southwest to the northeast. It also has large forests, ranking one of the major four forest zones of Hunan. Here list top attractions in Shaoyang.
There are many ethnic minorities here, which is a large group made up of nearly 400,000 people. Flower Drum Opera is a famous folk art in Hunan. Shaoyang local also prefer this. In addition, the place also has its own styles of art, blend with instruments, songs, performances and ballads. It teems with orange and now a new industrial city of the region.
The city of Shaoyang is a large green stretch of land in the western part of Hunan Province. It boasts a broad area of grassland in the Nanshan Scenic Area in Chengbu County, the luxuriant Yunshan National Forest Park, the crimson rock formations on Mount Langshan, rare animals and plants at Huangsangping in Suining County, as well as hot springs in the Longhui Huayao Scenic Area. Besides the unique natural sights, there are also many cultural spots in Shaoyang. The city has a long history of Wuchu culture and Meishan culture. The customs of the Miao and Dong ethnic groups are fascinating. What's more, many famous people in Chinese history such as Wei Yuan and Cai E left their footprints in Shaoyang. All the attractions above jointly make the city a miraculous oasis...More Read: Shaoyang Attractions
---
When to visit Shaoyang?
Shaoyang Climate is humid and seasons are clear. Generally the temperature is mild without severe winter and torrid summer. However, the weather is different from hilly area and basins. The annual average temperature is about 17 degrees. Most of the rain falls between April to June. Shaoyang city has distinctive seasons; the rainfall is just so so, so the possibility of floods is not high. The coldest month is Jan. with the lowest temp of 4-5C and the hottest month is Jul. with the highest temp of 32-33 C...More Read: Shaoyang Weather
---
How to reach Shaoyang?
Shaoyang once was major industry city in China. After tens years effort, it has evolved a complete industrial system such as machinery, textile, chemicals, medicines, building materials, paper industry, food processing and etc. Since the reform and opening-up to the outside world, transportation, telecommunication, energy resource, infrastructure have been further strengthened and the social and economic order have been improved obviously... more read: Shaoyang Transportation
---
Shaoyang Travel Tips
Shaoyang Maps
Shaoyang Shopping
Shaoyang Dining
Shaoyang Nightlife
Shaoyang Hotels
Shaoyang Travel Tips

---