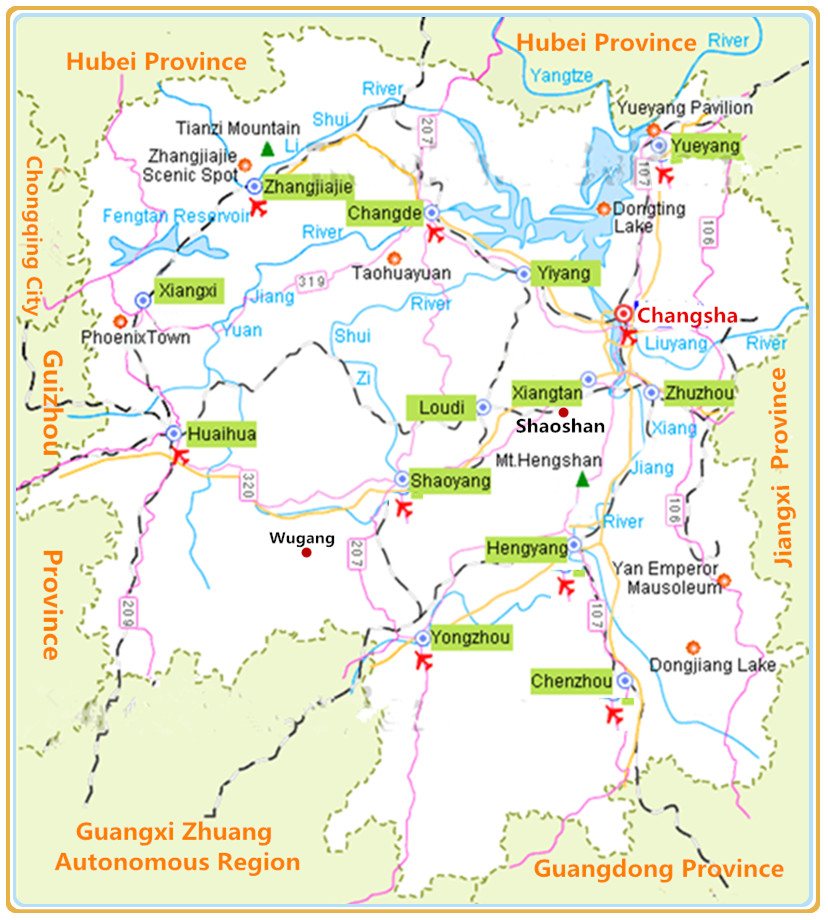 Changsha, 320 km southeastern away from Zhangjiajie, is the capital of Hunan Province and an important center city in the middle reaches of the Yangtze River of China. Changsha also is a famous ancient city with a history of 3,500 years. Nowadays, Changsha is an important place gathering historical and cultural relics, and a tourism collecting and distributing center of Hunan Province.People can still feel the past prosperity of the ancient city from a great number of historical remains in the city...
More
Facts of Changsha
Chinese Name: 长沙市 (cháng shā shì)
Location: northeast of Hunan Province, downstream of the Xiangjiang River
Area: 11,825 square kilometers
Population: 8,153,000(2019)
Nationality: Han,Tujia, Miao, Hui, Kazakh, Kirgiz, Uzbek
Administrative Area: 5 districts-Yuelu District, Furong District, Tianxin District, Kaifu District, Yuhua District, Liuyang Municipal and Changsha County, Wangcheng County and Ningxiang County
Government Location: Yuelu Dadao, Yuelu District,Changsha City
---
History of Changsha
Changsha used to be a place of strategic importance of the state of Chu, a famous prefecture of the Qin Dynasty (221 – 207 B.C.), and the capital of the early Han Dynasty (206 B. C. – A.D. 220). A woman corpse that had been sunk in sleep for more than 2,000 years astonished the world along with the discovery of over 3,000 precious cultural relics excavated from the Han tombs at Mawangdui, making people in the world gasp in admiration at the advanced civilization created by the ancient people in Hunan.
►History of Changsha City
►Culture of Changsha
---
What to see in Changsha?
Changsha has given birth to a great number of celebrites. It is very hard to calculate how many famous historical ersonages once stayed in the city. in modern times alone, several dozen revolutionaries, including Mao Zedong and Liu Shaoqi, once studied, lived and fought in Changsha, Hunan First Normal College, the meeting venue of the Autumn Harvest Upstring, Qingshui Pool and other historical sites keep telling tourists the old stories. How can men of letters and celebrates be away from beautiful scenery? Yuelu Mountain which is pregnant with beauty and vitality, the Xiangjiang River that flows around the city, Orange Island which quietly lies in the middle of the river like a dragon, and other scenic and historic interest places in Changsha are jointly composing a melodious song...More Read: Changsha Attractions
---
How to reach Changsha?
As an important central city in the middle reaches of the Yangtze River, Changsha is a comprehensive transportation hub in China. In addition to Changsha Huanghua International Airport, there are Beijing-Guangzhou high-speed rail, Shanghai-Kunming high-speed rail, and Chongqing-Xiamen high-speed rail at the intersection. Expressways such as Beijing-Hong Kong-Macao Highway, Hangzhou-Ruili Highway pass here, so the traffic in Changsha is very developed. If you want to travel to Changsha, you can easily reach Changsha by train, highway or flight whether you are from home or abroad...More Read:
Changsgha Transportation
---
When to visit Changsha?
Changsha weather changes greatly during the transit period between spring and summer or summer and autumn. An unexpected summer rainstorm could arrive suddenly on a sunny day, so make sure to bring an umbrella with you. The long rain period starts in October and continues for one or two months, therefore one should plan indoor tourist activities during the latter part of a year...More Read:
Changsha Climate Weather
---
Changsha Travel Tips
Changsha is located northeast of Hunan Province, the lower reaches of the Xiangjiang River and the western edge of the Changsha Basin. It is adjacent to Yichun and Pingxiang, Jiangxi Province in the east, Zhuzhou and Xiangtan in the south, Loudi and Yiyang in the west, and Yueyang and Yiyang in the north.
►
Shopping In Changsha