---
Xiangtan Travel Guide
---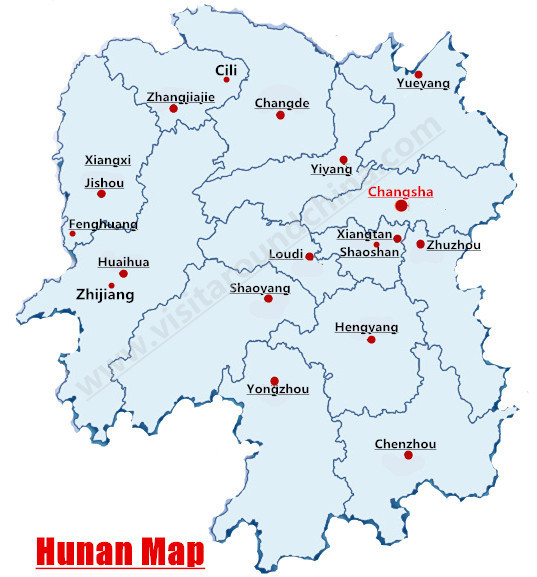 Xiangtan City is famous for Shaoshan which is the hometown of Chairman Mao.Located in the central part of Hunan Province, the middle reach of the Xiang River, Xiangtan City is only 40 km away from Changsha or Zhuzhou, which makes a "golden triangle" of politics, economy and culture in Hunan province.
Xiangtan education is advanced. Xiangtan University is a comprehensive one in China and its name was written by Chairman Mao...more
Chinese Name: 湘潭 (xiāng tán)
Location: in the central part of Hunan Province
Area:
5,015 square kilometers (1,936 square miles)
Population:
2,820,000
Nationalities:
Han
Administrative Division:
2 districts (Yuetang, Yuhu); 1 county (Xiangtan); 2 county-level cities (Xiangxiang,
Shaoshan
)
---
Xiangtan was named Tanzhou in ancient times. Establishing Xiangtan as a county began in the Tang Dynasty (618-907). From then on, its domain remains relatively stable in the following years. On the basis of the county, the government of the PRC established the Xiangtan City in 1950.
---
What to see in Xiangtan?
Xiangtan is situated at the middle and lower reaches of Xiangjiang River. There are over 100 scenic spots including not only plentiful marvelous natural beauty such as mountains and water, clear lakes, water-eroded caves, but also rich human resources since Xiangtan is the birthplace of the great revolutionists of the old generation: Mao Zedong, Peng Dehuai, Luo Yinong, Huang Gonglue, Chen Geng, Tan Zheng, and it also gave birth to the great art masters Qi Baishi, Li Jingxi and Xiao San, etc....More Read:
Xiangtan Attractions
---
When to visit Xiangtan?
Xiangtan is situated in the humid subtropical monsoon climate area. Enjoying a subtropical humid monsoon climate, Xiangtan City has rich rainfall and abundant sunshine. The average temperature of January is 4.1 ℃ and the average temperature of July is 29.7 ℃.The annual average temperature is about 17

C .,,More read:
Xiangtan Weather
---
How to reach Xiangtan?
With convenient transportation, Xiangtan is a converging point on 107 National Highway (Beijing to Shenzhen), 320 National Highway (Shanghai to Kunming), Jingguang Railway (Beijing to Guangzhou) and Xiangqian Railway (Hunan to Guizhou). Tourists can take the tourist train from Guangzhou to Shaoshan here in Xiangtan.
Nowadays the Xiangtan people with the glorious traditions have vigorously promoted an upsurge of modernization drive, and new Xiangtan with convenient public transport, complete facilities, a beautiful environment and an advanced economy is suddenly coming to the fore...More Read: Xiangtan Transportation
---
---