With the support of the central government in recent over 30 years, Zhangjiajie City has undergone great improvements through the construction of new infrastructure including highways, railways and an airport.Visitors can get to Zhangjiajie by trains,flights and long-distance bus easily today.
By Air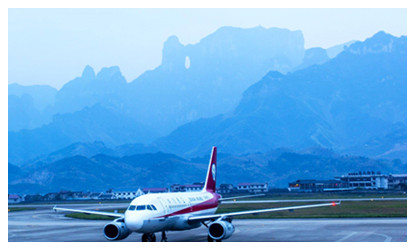 Opened in 1994,
Zhangjiajie Hehua International Airport
is the second largest airport in Hunan Province. It around 4 miles (6 kilometers) from downtown area and 25 miles (40 kilometers) from Wulingyuan Scenic Area. Zhangjiajie Hehua International Airport plays an important role in receiving tourists who visit Zhangjiajie National Forest Park and Phoenix Ancient Town.
Shuttle buses are accessible here, taking passengers to the city center for free within 20 minutes. Besides, city bus no. 4 is available nearby, by which passengers can go to local Central Bus Station to transfer to the direct long-distance buses to the Zhangjiajie National Forest Park, Wulingyuan and Tianzi Mountain.
The airport operates flights to many domestic cities, such as Beijing,Xian,Shanghai, Guangzhou,Yinchuan,Hengyang,Nanjing,Shenzhou,Kunming,Hangzhou,Chongqing,Changsha, and a couple of international cities like Busan and Taipei.
Zhangjiajie Lishui River Bridge
---
By Train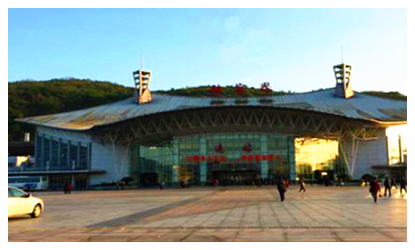 There are two railway stations in Zhangjiajie City. Cili Railway Station is located in Cili County. Zhangjiajie Railway Station is located at the foot of Tianmen Mountain in Yongding District,Zhangjaijie City. Over ten big and middle-sized cities in China such as Beijing, Shanghai, Guangzhou, Changsha can be reached directly by train. Bus No.10,6 connect Zhangjiajie Railway Station and the city center. The fare is usually about CNY2. Especially, the vocation bus was opened to visitors in December,2016. Tourists can take the bus from Zhangjiajie Railway Station to the city and have a sightseeing around the city. It usually take one hour's drive and CNY5.
►
Zhangjiajie Train Timetable
2020
►
Zhangjiajie West Railway Station
---
By Long-distance Bus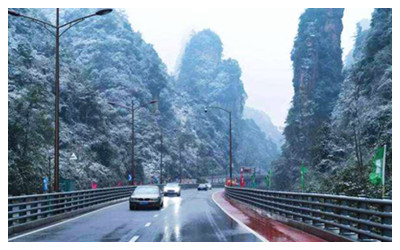 Nowadays, visitors can get to Zhangjaijie by highway. It is 5 hours' driving from Changsha City to Zhangjiajie, 3 or 4 hours' driving to Zhangjiajie from Fenghuang and Jishou, 5 hours' driving to Zhangjiajie from Enshi, and 5 hours' driving from Yichang.
In Zhangjaijie City, highways, such as
Zhangjiajie-Sangzhi Highway
,
Wulingshan Avenue
,
Yangjiajie Avenue,
have been constructed and operated to public traffic. Visitors are easily to get to any scenic spots by highway. it is 1 hour's driving from downtown to Cili County, 50 minutes' driving to Sangzhi County, 30 minutes' driving to Wulingyuan District and Zhangjiajie National Forest Park, 1 and half hour's driving to Yangjiajie,as well as 2 hours' driving to Tianzi Mountain Ticket Office.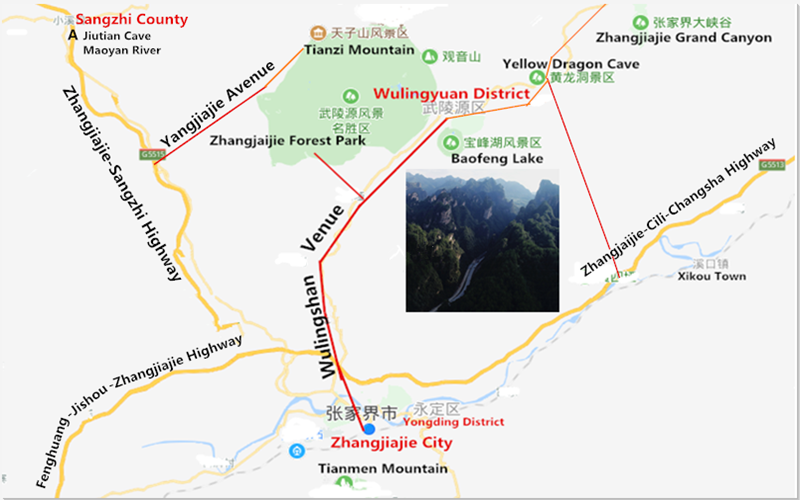 The Long-distance Bus Station is also called
Zhangjiajie Central Bus Station
nearby
Zhangjiajie
Railway Station. There are regular buses to cities such as Changde, Shanghai, Changsha, Yueyang, Wuhan, Jishou,Enshi and Zhuhai. Buses to the nearby Yangjiajie Scenic Area,
Zhangjiajie
Forest Park, Wulingyaun Scenic Area and surrounding counties such as Cili,Sangzhi,Shimen,Longshan,Yongshun and Feng Huang (Phoenix) County operate every day. Take bus No. 1, 2, 3, 4,5,6,7,10 to the Long-distance Bus Station.
---
City-Bus
There are thirteen city-bus lines within the city in total. They service hotels, hospitals, banks, supermarkets and can be very convenient. The ticket fare is only CNY2 and buses operate at 30 minute intervals. For example, Bus No.5,10,1,13 goes to the Tujia Folk Customs Park where local folk culture can be experienced.
---
By Taxi
It is inexpensive to ravel around the city by taxi. The price is only CNY5 for the first 1mi (1.6km), and every additional kilometer costs CNY1.6. If the trip is farther than 6mi (10km), the unit price for each extra kilometer is CNY3.2. As the city is small, it costs no more than CNY20 to commute within the town.
Taxis can be easily flag down, but most drivers won't charge by the meter. Therefore, it is strongly recommended to negotiate a flat rate before getting on the car. To Zhangjiajie National Forest Park or Wulingyuan Scenic Area, the reference cab fare is CNY150, departing from the downtown or Hehua Airport.
Taxi Complaint Hotline: 0744-8238057