Tianzi Mountain is located in the northwestern part of
Wulingyuan Scenic Area
, Zhangjiajie City, Boasting rocky peaks in grotesque shapes and shrouded in drifting mist. Tianzi Mountain has many scenic attractions, such as the lofty Imperial Writing Brush Peak, Fairy Maid Scattering Flowers, and the Mid-Air Farmers' Cottage.The highest peak of Tianzi Mountain is 1,260 meters above sea level and provides stunning views of the surrounding mountains and valleys. Waterfalls, bridges, stone forests and caves are found throughout the mountains.
Legend of Tianzi Mountain
Tianzi Mountain was named as ''Qing Yan Mountain'' before Ming Dynasty (1368-1644) for green stones. It was not until the year of 1353 when
Xiang Dakun
, the leader of Tujia ethnic group, started a revolt, established kindom on Tianzi Mountain, and called himself ''King Xiang'' - son of heaven. In the year of 1385, they encountered the fierce siege of ten thousand soldiers commanded by Emperor Zhu Yuanzhang (1328-1398), the first emperor of Ming Dynasty. Unfortunately, King Xiang died in the battle and fell into the Shentang Gulf. To show their respect and support to Xiang Dakun, people set up villages along the Tianzi Mountain. The mounatin was renamed as ''Tianzi Mountain''.
---
What to see in Tianzi Mountain ?
Tianzi Mountain includes three parts, such as Shijiayan Scenic Zone, Chapanta Scenic Zone and Laowuchang Scenic Zone.There are more than 80 natural platforms to take in the magnificent scenery.

1. Shijiayan Scenic Zone in Tianzi Mountain
Located in the northeast of Tianzi Mountain, it is the most popular site for most tourists if the don't like hiking. It's very easily to get there by shuttle bus and Tianzi Mountain Cable car, or hiking from Ten-mile Gallery of Suoxiyu Scenic Spot. Usually, visitors reach Tianzi Mountain to visit around the west Sea Stone Forest at Shijiayan Scneic Zone. It has main attractions such as He Long Park, West Sea Stone Forest, Emperor's Writing Brush Peak, Tianzi Pavilion,Shentang Bay.

West Sea Stone Forest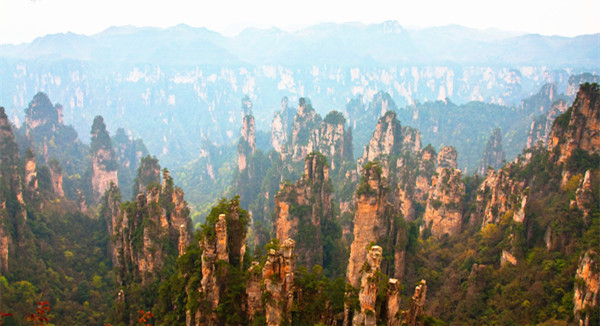 Situated in the west of Suoxiyu Valley, it is a basin-like landform with a collection of peaks and woods. In this sea, numerous peaks stand with different shapes and poses, covered with lush vegetation. Therefore, it is called sea of trees and sea of peaks. In spring or summer or a clear day immediately after a rain in autumn, the clouds are surging and rolling like waves, covering the whole sky and earth. The view is so magnificent that it is called sea of clouds. The combination of the three seas is the characteristic of West Sea. In it, Gate to Heaven and Sky Terrace are wonderful scenes.

He Long Park
He Long Park sits on the left of a 1200-meter-high rock. Bronze Statue of He Long (the founder of Chinese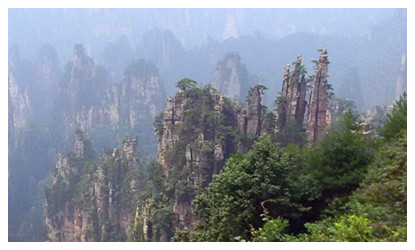 People's Liberation Army), the largest bronze statue in a century in China, illustrates human harmony with nature and reflects a unique style.

Imperial Writing Brush Peak
Imperial Writing Brush Peak has inspired artists and photographers for a long time. It was once shown on over 30 magazines and newspapers. It is located in a valley on the west of Tianzi Pavilion (Heaven's Son Pavilion). Looking from the vantage point on the northeast, ten rolling peaks soar up to the blue sky. The right peak looks like an inverted brush. And the peaks on the left looks like a finished picture. Legend has it that the stone brush is left by King Xiang.

Fairy Maid Scattering Flowers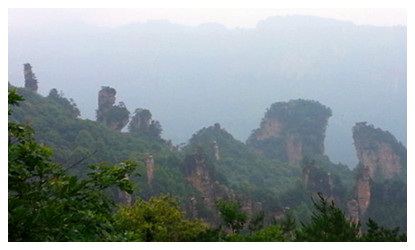 It faces the King's Brush Peak. Flowing mists weave themselves around the peaks and turn them into isolated islets. Stone buttes hide themselves in clouds and mists. When wind blows away the mists, a beautiful ''fairy'' was unveiled. She carries a basket of flowers and spread them to the world.
Training Horses by a Warrior
Tens of peaks rise from valley. Here you will see a horsed-shaped peak, beside which is a stone looking like a soldier with his hand on a bridle. According to a legend, they were horse and guard of King Xiang.
Shengtang Valley (Divine Shrine)
It is also named Shentang Fort or Shengtang Bay. It is a gorge shaped like a huge basin walled by lofty precipices. The bottom of the gorge is veiled in mists and clouds all day, adding to its mysteriousness. As the saying goes, the most beautiful scene is seen from the most perilous peak. There are almost no roads to Shengtang Valley, only a quite dangerous flight of stairs that is as wide as a foot being available. Local people say, Every step kills one soul. In the center of the bottom lies a fathomless green pond. Looking down the pond from the mouth of the gorge, one cant help shivering. Whats peculiar is that visitors can hear sounds of gongs and drums, neighs of battle steeds and shouts of men echoing from the bottom. Nobody can give a reasonable answer to this mystery. Therefore, Shentang Valley was a forbidden place in Wulingyuan and a puzzle for hundreds of years.
2. Laowuchang Scenic Zone in Tianzi Mountain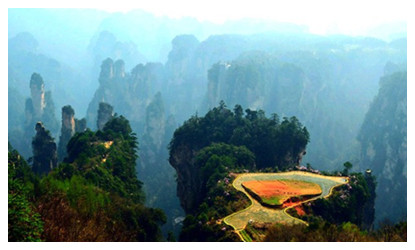 It is locetd in southwest of Tianzi Mountain. Visitors can walk from Dingxiangrong Village to the scenic zone. The path is about 16 km, and it will take about 2-3 hours hiking on one way. This area is a valley which is around 800 meters above sea level.

Yuanyang Waterfall
Located in Yuanyang Stream, a branch stream of Suoxi river coming from Tianzi Mountain and joining Suoxi River at Shuiraosimen nearby the Bailong Elevator. It is a wonderful waterfall running from the stream with its length of 180 meters and width of 15 meters.

Mid-air Farmer's Cottage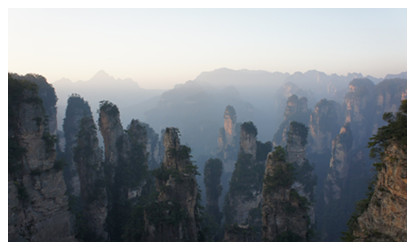 This is field in air which rises 1000 meters above sea level. Beneath it is a chasm with protruding sheer cliffs, above which is a piece of terraced field covering 3 hectares. The field is on three sides surrounded by trees and white clouds, just like a splendid landscape painting.

Heavenly Warrior's Gathering
Here you can see hundreds of stone peaks are densely packed in a canyon, which just looks like a group of imposing warriors listening to orders of a general. Such a forest of stone peaks is rarely seen in the world.
---
3.Changpanta Scenic Zone
Located the middle area of Tianzi Mountain, it is nearby Laowuchang Scenic Zone,and it is laso located at the end site of Ten-mile Gallery. Standing here,you can get abird view of the Ten-mile Gallery.You need to stay in Dingxiang Rong downtown if you want to see the sunrise in The Grand Sightseeing Platform. The sun-rising time is different according to the seasons, basically speaking, 5 o'clock in the morning in summer and 7 o'clock in winter. Zhangjiajie Holiday has a good cooperation with a lot of hotels at Dingxiangrong Village in Tianzi Mountain ,all hotels are clean and economic.
Fairy Bridge ( Immortal Bridge)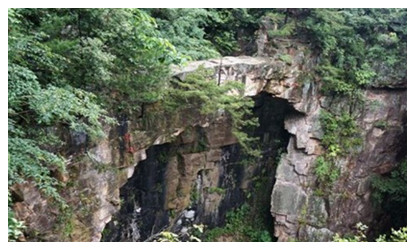 The Fairy Bridge, also called Immortal Bridge, is a natural stone bridge. It is located in Chapanta Scenic Spot of Tianzi Mountain. It will take visitors over 1 hour's walking from the shuttle bus station in Tianzi Mountain. With only 1 meter width and 26 meters length, the bridge is listed as the top ten wonders of Zhangjiajie. But because it is very dangerous if a person walk on the bridge, the government has closed the route to the bridge. visitors are now allowed to cross the bridge and the can only get sight of it from far away.
At the end of the ten-mile gallery, There are jagged rocks of grotesque shapes, green and luxuriant forest, and small groups of hundreds of monkeys gathering here, so called "Monkey Slope".
In end point of the Ten-mile Natural Gallery, The right front mountain is called "Wolong Ridge" which is the link of the essence tour connecting Tianzi Mountain and Ten-mile Natural Gallery. Right ahead there are three peaks standing side by side are called the "Three Sisters". You see, the left is the eldest sister who has great hair carrying a child ready to return to her family. The middle is the younger sister who takes her baby in her arms to look forward to the safe return of her husband. The right peak humps just like a pregnant woman, This is the little sister who is just married.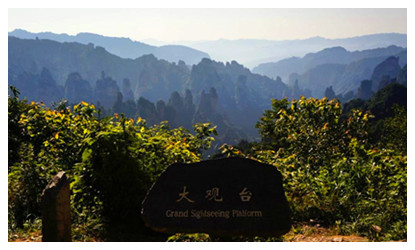 Grand Sightseeing Platform
Located at the site of Chapanta Scenic Zone in Tianzi Mountain. It has 4 natural spectacles, such as the clouds of mist that circle the peaks of the mountain, the amazing views of the rising sun, the moonlit nights and snow-capped winter peaks , the Mid-Air Farmers' Cottage. The Grand Sightseeing Platform is the only place where you can see the sunrise.Gazing into the distance,you will have a panoramic view of numerous peaks.
Tianzi Peak
At the southwest of Tea-tray Pagoda, stands a 1200-meter-high peak, which is called ''Tianzi Peak''. It looks like a great man, who sits there, dressed in armor, holds an arrow in right hand, and scowls ahead, as if he was going to have a war.
---
Best Time to visit Tianzi Mountain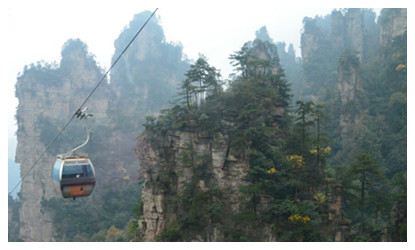 Tianzi Mountain has four scenic wonders, namely Cloud Billows, Moon Brightness, Sun Glow and Winter Snow. The landscape here varies in different seasons and also in one day, which makes Tianzi Mountain a very interesting destination. Cloud and mist in Tianzi Mountain enjoys high reputation nationwide, especially just after the rain, which adds much charm to Tianzi Mountain.
The cloud billows are ever changing, morning and evening sun glows vast sky, moon shines in the still night, winter snow falls enchanting the scenery, like a lyric, like a landscape painting. Here in the Tianzi Mountain, scene majestic is in all its variety. There are five main scenic zones and over ten scenic spots in the Tianzi Mountain area. They include more than 80 natural platforms to take in the magnificent scenery.
---
How to travel to Tianzi Mountain?
Tianzi Mountain Hiking
---
Travel Tips
Add: Northeast of Zhangjiajie National Forest Park in Wulingyuan District of Zhangjiajie.
Transport: Take Tianzi Mountain Cable car up to Tianzi Mountain; Take shuttle bus about 40 minutes drive from Yuanjiajie Scenic Spot to Tianzi Mountain, Walk from Ten-mile Gallery....more
Entrance fee: CNY 248
Opening Hours: 07:30-18:00
Visiting Hours: 1-2 day trip