What to see?
Tianmen Mountain, the second national forest in Zhangjiajie, is the symbol and soul of Zhangjiajie. Someone entitle this mountain as the most beautiful flower garden in the sky and the fairly land in the boundary of heaven. It is worth to visit for the miraculous and unique geographic landform and unparalleled natural landscape, as well as for its profound cultural connotations and famous colorful humanistic site.
Four Wonders of Tianmen Mountain
Travel in Tianmen Mountain, visitors can see the Four Wonders of Tianmen Mountain.It is listed as one of the 50 worthwhile visiting places for foreign travelers. In Tianmen Mountain, there are some featured activities for you to experience, like Tianmen Mountain cableway, Glass sky-walk, Avenue Toward Heaven, Tianmen Cave (Closest Earth Landmark to God), and Cliff-hanging walkway.
More Attractions in Tianmen Mountain
Tianmen Academy
Tianmen Academy is another attraction. It has delivered advanced education since ancient times. Many high ranking officials and scholars were brought up here. Emperor Timur of the Yuan Dynasty in the mid 14th century thought highly of the educational achievements in the Tianmen Mountain area. He wrote an inscription about Tianmen Academy to honour the local college.Tianmen Academy is now a senior high school.
The Show of Tianmen Fox Fairy
Time: 20:30-21:50 every evening during March to December of the year (If it rains, you will be given a raincoat for free. In cold days of winter, you can rent warm cotton-padded clothes.)
Place: Tianmenshan Canyon Theater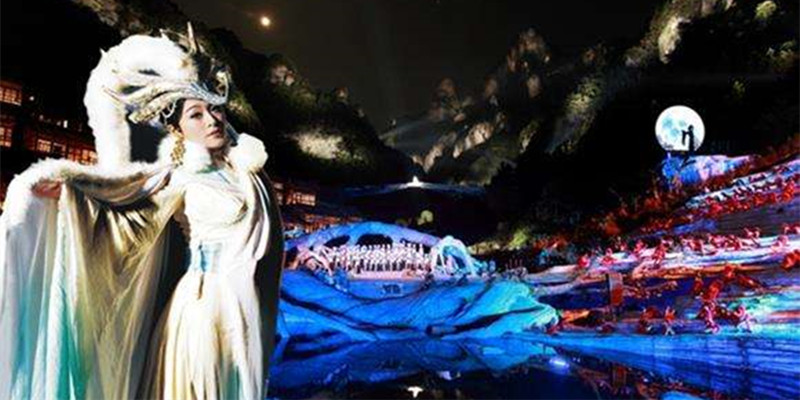 Tianmen Fox Fairy is the real-scene musical drama with the Tianmen Mountain and its deep valleys as the stage background. The show tells a romantic love story between a fox fairy and an ordinary woodman making a living by chopping woods. Combining the local music, the indigenous life style and ancient love story, with the marvelous valley as background, this show will add more fun more your Zhangjiajie Tianmen Mountain trip.
---
How to get there?
Transport: visitors can walk 5 minutes to the Tianmen Mountain Cableway station. visitors can also take bus No.10,6 at Zhangjiajie Railway Station, or bus No.4 at Zhangjiajie Hehua Airport to Tianmen Mountain Cableway Station. Our private tour package includes transferring to and sending off Tianmen Mountain that travelers can enjoy worry free transfer service all the way. If you are independent travelers, you can take bus or taxi from downtown area, railway station and airport to get to Tianmen Mountain.
Transportation in Tianmen Mountain


Tianmen Cave Escalator
It consists of the upper escalator and lower escalator. The upper escalator runs between Tianmen Cave and Biye Yaotai scenic area. The lower escalator runs between the Parking Lot of Tianmen Cave and Tianmen Cave. Taking the lower escalator, travelers can save energy to climb the 999 steps which makes the visit easier. It is charged 32 Yuan for the lower escalator.
Tianmen Mountain Peak Forest Sightseeing Cable Car
Fee: 25 Yuan per way
It starts from the main peak of Tianmen Mountain – Yu Meng Xian Peak, to Cherry Bay near Tianmen Mountain Temple. With a length of 800m, it takes 10 minutes one way. Taking sightseeing cable car, you can not only overlook the primitive forest scenery, but also save energy and time to make your trip easier.
Sightseeing Bus
The sightseeing buses run 25-30 minutes one way, every 10 minutes for interval. It takes travelers go between Tianmen Cableway Middle Station/Lower Station and Tianmen Cave.
---
Recommended Traveling Route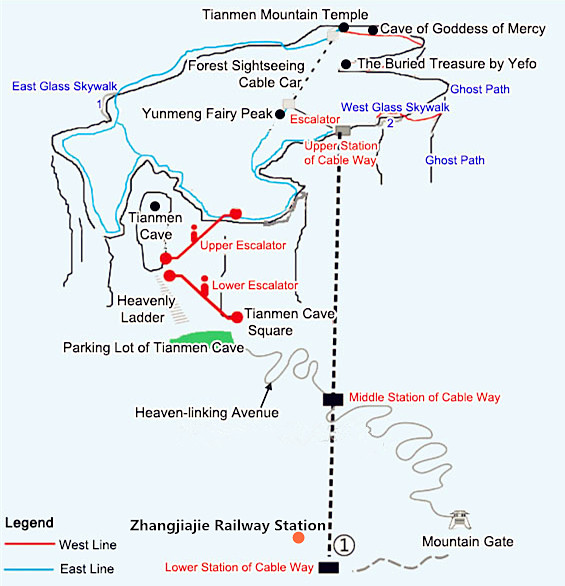 Usually, it will take you 4-6 hours visiting in Tianmen Mountain. Nowadays, The scenic area of Tinamen Mountain operates 2 kinds of tickets, Route A and Route B.
Route A (less walk, energy and time saving)
Take the 7455-meter cableway to get up Tianmen Mountain; Arrive at Tianmen Mountain cable station (Upper) and choose west route to travel through Mixian Qijing Scenic spot and experience Cliff-Hanging Walkway and Glass Skywalk, visit Tianmen Temple; Take Tianmen Mountain Peak Forest Sightseeing Cable Car from Cherry Bay to Yunmeng Xianding; reach upper escalator Tianmen Mountain to get down Tianmen Cave and visit the door to heaven; get down from Tianmen Cave to the parking lot and take sightseeing bus to experience 99 turns via Tongtian Avenue. (Note: If you don't want to go 99 turns on bus, travelers can go up from Tianmen Cave by escalator and take cableway to get down.)
►4 Days Zhangjiajie With MT.Tianmen
►5 Days Zhangjiajie Small Group Tour with Glass Bridge and Mt Tianmen
Route B (in-depth hiking route)
Take the 7455-meter cableway to get up Tianmen Mountain; arrive at the upper cable station and choose the west route to visit Mixian Qijing Scenic Area and experience Cliff-Hanging Walkway and Glass Skywalk; visit Tianjie Foguo scenic area to Tianmen Temple; hike on the east route to travel through the primitive forest in Biye Yaotai Scenic Area and visit many sights along the way; get down from upper escalator to Tianmen Cave; visit Tianmen Cave and walk 999 steps to Tianmen Cave parking lot to take sightseeing bus to get down Tianmen Mountain by wandering through Tongtian Avenue with 99 turns. (Note: If you don't want to go 99 turns on bus, travelers can go up from Tianmen Cave by escalator and take cableway to get down.
---
When to visit Tianmen Mountain?
In different seasons, Tianmen Mountain has different scenery.
In spring, it is still a little bit cold. When taking cableway to pass through the farm fields and get up Tianmen Mountain, you can see many flowers in blossom. It has heavy fog in this season, and Tianmen Cave is very mysterious with fog at this time.
In summer, Tianmen Mountain is very cool and becomes a good place to escape the heat.
In autumn, the weather and temperature is moderate and the scenery is fantastic. Some trees turn yellow and red, giving the mountain more colorful scenery.
In winter, Tianmen Mountain is cold and sometimes it snows. Tianmen Mountain becomes the icy world. To avoid the coldness, it is recommended to visit during April to October.
►
Cloud Sea of Mt Tianmen
---
What to pack ?
Be sure to bring boots or shoes with good soles for you may need to take some hiking along the paths and trails in Tianmen Mountain.
Take some commonly used medicines for emergencies.
Take an umbrella or raincoat for the weather may change during one day.
Wear a pair of sunglasses to prevent the ultraviolet ray.