---
Tujia Ethnic Customs Park
---
Tujia Ethnic Folk Park, located in the central area of Zhangjaijie city, is a tourist spot that displays the classic buildings, folk customs, food, dance of Tujia ethnic minority. It is converted from the previous castle of Tu Si(appointing national minority hereditary headmen in the Yuan, Ming and Qing Dynasties) of Tujia ethnic minority.
---
What to see ?
Stilted Building of Tujia Ethnic Minority
Here you would get to learn what kind of house that Tujia people used to live in - stilted building of Tujia nationality(Diaojiaolou), traditional customs of wedding ceremony and wild Tujia dancing. Diaojiaolou are very functional and similar to those of the Miao. On the lower floor is for raising livestock; while the living rooms and bedrooms are kept upstairs. This design focuses on the use of small rooms but is also well ventilated, damp-proof and clean. The largest and tallest wooden stilted building is right inside the garden.
Stone Stele Building
When you step into the garden, the first thing coming to your eye is a stone stele building named as "东南第一功" in Chinese. Passing by the stone stele you will reach a small square. In its south is the hall for worship, where is dedicated to ancestors of Tujia nationality of this area. You can see a tall golden statue, stone tripods, dragon pillars and other sacrificial offerings.
Performance of Tujia Folk Customs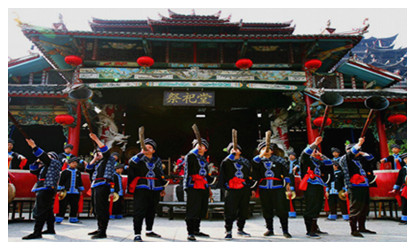 And if you come in the right time, you may catch a chance to see the traditional of Tujia nationality - Mao Gu Si Dance. In the square in the front of the worship hall, visitors have the opportunity to enjoy performances of the Tujia ethnic customs, which is scheduled at 10:00am and 16:00pm daily. The performances include Mao Gu Si dance, copper bell dance, waving dance, Daliuzi(beating symbals of Tujia nationality), etc.
Jiuchongtian Stilted Building
In addition to viewing the wonderful Tujia ethnic dance, the Jiuchongtian stilted building is the key highlight in the garden. This building is made all by wood and has twelve layers. It is currently the highest and the largest all-wooden stilted architecture in the country. Inside the building, it displays local folk customs and culture of Tujia minority in different layers, such as wedding customs of Tujia minority, headwears, clothing, batik craft and works, tapestry, silverwares, tree root carvings, precious cultural relics, etc. You'd better hire a local tour guide to visit with you, so that you can get explanation of the things that you see.
---
Travel Tips
Add:
Wizipo, Yongding District of
Zhangjiajie
City, Hunan Provice.
Entrance Fee:
CNY 120
Opening hours:
08:00-18:00
---