---
Shuangta Mountain
---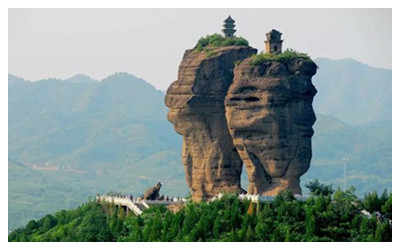 Shuangta Mountain, also knonw as the Double Pagodas Mountain, is located in the mountainous area in the southwest of Chengde City. The two huge rock columns stand side by side resembling two pagodas, each with a brick tower on its peak, hence the name. According to legend,the artificially built brick towers on the rock pillars were tomb pagodas built in Liao Dynasty.
A ladder is now built next to the pagoda which can be climbed up. The brick pagoda on the south peak faces north to south, which is more than 5 meters high, and it has a side length of more than 2 meters. While
Tang
shan was earthquaking in 1976, the brick pagodas did not fail, which was very magical.
There are also Sanxian Temple, Qibao Tower, Lingfeng Ancient Garden, and cliff carvings to visit in the scenic area.
---
Travel Tips
Address: Shuangjing District, Chengde City,Hebi Province
Phone: 0314-4301575
Opening hours: 08: 00-16: 00.
Entrance Fees: CNY 40
---