Tianmen Fox Fairy was first put on at the foot of Tianmen Mountain in September, 2009. The show of Tianmen Fox Fairy is known as the world's first real-scene musical drama with the high mountain and deep valleys as the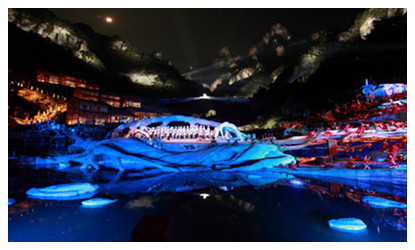 stage background. The auditorium and main stage occupy a total area of 19880 ㎡. The panoramic stage made of glass steel occupies an area of 10000㎡, which is transparently bright with lighting effect to form a fantastic scene. The performance areas are divided into five parts: central stage, mankind's world on the left, fox's world on the right, the singing platform in the front and the live-action of terrace and Timber Bridge at the back.
---
Main List of Tianmen Fox Fairy Show
The whole performance of Tianmen Fox Fairy is divided into five parts, including the King of fox's choosing imperial concubine, meeting on the mountain, lovesickness at night, betraying to the King and waiting.
During the show, you can appreciate the flying waterfall, the big moon; you are able to hear the folk songs, which are performed by 100 local singers with silver ornaments; you can enjoy the dance at the same time.
---
Love story of Tianmen Fox Fairy
The show tells a romantic love story about a fox fairy and an ordinary woodman that makes a living by chopping woods. The fox fairy is quite kind and extremely beautiful. She never hurts human before. She was forced to marry the king of the fox empire, who she does not love at all. She gradually falls in love with a kind and diligent woodman that used to save her life. So she uses her magic power to shape herself into a human. She slides into the man's house to finish all the housework and make a delicate dinner for him every day. The woodman finds out the truth finally and he also falls in love with her. They begin to live a happy life together. But when the other villagers know the woman is actually a fox, they can not accept it. They reject to the love story of the man and the fox because a lot of villagers and children were hunted by fox fairies, as well as the trouble made by the fox empire.
Moreover, the King of the fox empire can't accept the betraying of the fox fairy. What about the ending? You should really go to find out yourself.
---
Venue: The Mount Tianmen Valley Grand Theatre
Add: The Mount Tianmen Valley Grand Theatr in Zhangjiajie City, Hunan province.
Duration: 2 hours (20:10 – 22:10)