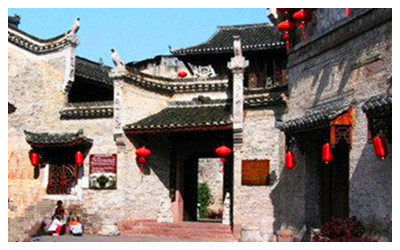 Fenghuang Ancient City Museum, also known as Chen Baozhen's old house, is located in the center of Fenghuang Ancient Town. Nowadays, It has been listed as one of the nine major attractions in Fenghuang Ancient Town.
Chen Baozhen 陈宝箴
(1831-1900) was born in Xiushui County, Jiangxi Province. He was the well-known reformist in the late Qing Dynasty(1645-1911). In the first year of Emperor Guangxu (1875) during the Qing Dynasty, he served as governor of
Xian
gxi in Hunan Province. He once lived as an official in Fenghuang County, where he taught local people to plant tea, plant bamboo, and grow potatoes in order to overcome the difficulties of the local people. He also led the loclal people to poke Tuojiang River so as to make the boat smooth. In the autumn of 1894, he served as governor of Hunan Province.
The ancient building complex in the museum has survived for hundreds of years and remains intact. Entering the museum, you can see the precious historical materials such as family relics, photos, and pictures donated by the descendants of Chen Baozhen displayed here to the museum, as well as the gifts sent by Emperor Tongzhi and Emperor Guangxun in the Qing Dynasty.
The museum also displays more than 500 ore specimens and paleontological fossils dating back hundreds of millions of years. While visiting the museum, you can also see the paintings of the founder of the museum, Mr. Lei Yutian, a famous painter in China.
---
Travel Tips
Address: No. 22 Center Road, Tuojiang Town, Fenghuang County, Xiangxi Tujia and Miao Autonomous Prefecture, Western Hunan Province
Phone: 0743-3502059,0743-3223315
Opening hours: 06: 30-18: 00 (in summer), 8: 00-17: 30 (in winter)
Entrance Fees: CNY 148( included the entrance ticket of the Fenghuang Ancient Town)