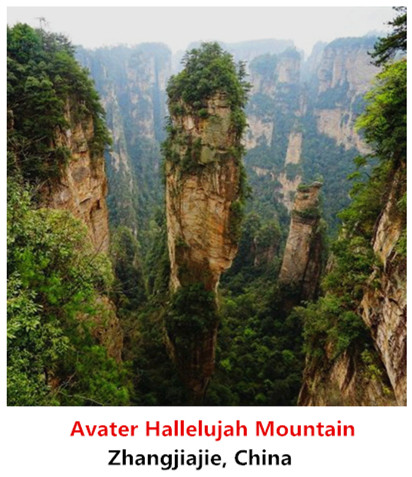 Avatar Hallelujah Mountain is located in Yuanjiajie Scenic Spot of Wulingyuan scenery area, Zhangjiajie, Hunan Province. It was initially named Floating Mountain as it looks floats in the air without any support.
---
Avatar Hallelujah Mountain
In 2008, Hollywood photographer Hansen, from the movie "Avater" took pictures of the Floating Mountain and used the scenery as an inspiration of one important scene in the movie. Among the mountains, "south sky pillars" became the prototype of Hallelujah Mountain in Pandora Planet. Avater Hallelujah Mountain is its new name after the movie. Before the movie "Avater" Floating Mountain has already famous for its great landscape in Zhangjiajie tourist area, each year it attracts large amount of tourists to come to enjoy the spectacular scenery.
Visitors can see countless photos of this sights. And even countless Chinese paintings about this. One could imagine that mountains in Chinese paintings are just a figment of their imagination but it is truly wonderful to know that it is based on reality. This is Chinese painting come to life.If it is quite hazy, the pillars aren't very distinct. In optimal viewing conditions, clouds can be seen floating from the valley below and behind some of the pillars. This would be a real life painting. This would be China's answer to the Grand Canyon in the United States. This place, however, is a little more ethereal. There are thousands of limestone peaks here that were carved out by water millions of years ago.
---
The Movie of Avatar
Avatar, marketed as James Cameron's Avatar, is a 2009 American epic science fiction film directed, written, produced, and co-edited by James Cameron, and stars Sam Worthington, Zoe Saldana, Stephen Lang, Michelle Rodriguez, and Sigourney Weaver.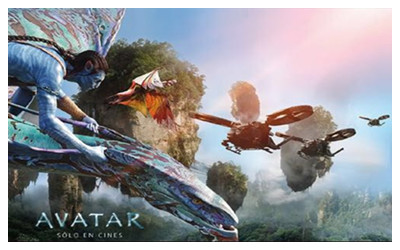 The film is set in the mid-22nd century, when humans are colonizing Pandora, a lush habitable moon of a gas giant in the Alpha Centauri star system, in order to mine the mineral unobtanium, a room-temperature superconductor.The expansion of the mining colony threatens the continued existence of a local tribe of Na'vi – a humanoid species indigenous to Pandora. The film's title refers to a genetically engineered Na'vi body with the mind of a remotely located human that is used to interact with the natives of Pandora.
Following the film's success, Cameron signed with 20th Century Fox to produce four sequels: Avatar 2 and Avatar 3 are currently filming, and will be released on December 18, 2020, and December 17, 2021 respectively; subsequent sequels will start shooting as soon as they wrap filming, and will be released in 2024 and 2025. Several cast members are expected to return, including Worthington, Saldana, Lang, and Weaver.
---
Travel Tips
Add: Yuanjiajie Scenic Spot,Wulingyuan Scenic Area,Zhangjiajie,China
Entrance Fee: CNY 248
Opening Hours: 08:00-18:00
How to get there: Take Bailong Elevator up to Yuanjiajie, or take shuttle bus from Tianzi Mountain to Yuanjiajie.