Yuanjiajie Scenic Spot, a part of Zhangjiajie National Forest Park, is located in the center of Wulingyuan Scenic Area as the main attraction in Zhangjiejie. Yuanjiajie Scenic Spot becomes more popular as the Southern Sky Pillar inspired the floating mountains in the Hollywood blockbuster Avatar. What makes it stand out is that, peaks and pillars there are nearly at the same height, which makes Yuanjiajie Scenic Spot a mountain platform great for enjoying sweeping vistas. Decorated by the world's most beautiful valley Golden Whip Valley, Yuanjiajie Scenic Spot tells travelers what is a marvelous mountain in China.
---
What to see in Yuanjiajie ?
Standing on the observation platform in Yuanjiajie,travelers can get sight of thousands of peaks at the same time. Peaks in various postures just look like countless brave men. Rock pillars with green trees just look like handsome generals. They describe a scene of army. Although these peaks are solid, they let people enter into a imaginary world and present a lively picture in the front of your eyes.
Bailong Elevator is the best choice for visitors taking to reach Yuanjiajie Scenic Spot. It looks like a giant dragon soaring up to sky. It was placed on the list of Guinness World Records for it is the highest and fastest elevator with the maximum loading capacity. The modern steel staff might be a bit incompatible with nature, though, standing at its foot, you will admire the power and wisdom of human being. It reaches the mountain top in two minutes; all people will be shock at the sights before eyes. All the mountains you have seen at the foot of them stand in arrays at your feet at the moment. Paddy fields and ethnic houses show up on a green hillside.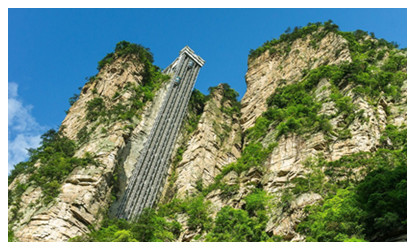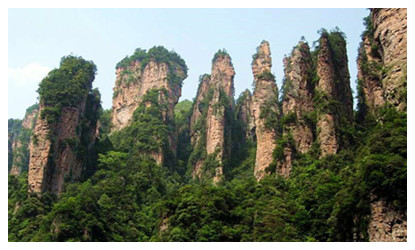 Back Garden
A poet touring the wonderful Suzhou Gardens once wrote:"0thers say I am in a city,but I insist that I am in the mountains."Now,those gardens are world renowned,but after all. they are produced artificially,restricted by the craftsmen's skill and limited by the available materials,the dimensions of the land.and the certain style of construction.But the"garden''which lies before US seems unrestrained:remarkable peaks appear to be strewn at random,some lofty and some diminutive;some have the appearance of towers,or pavilions,or stools,or chairs,while others resemble bonsais or statuaries.Indeed,some of these peaks have hing that can be compared with,taking on every conceivable shape?
For Tujia people,everything has its own spirit,and the mountain is under the control of the mountain god.Both the Front Garden in Huangshi Village and Back Garden are considered the gardens of the immortals.
Mihun Stage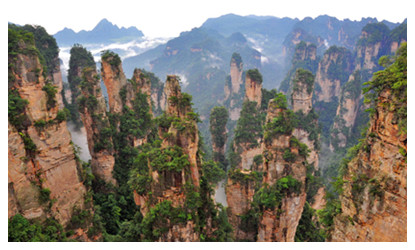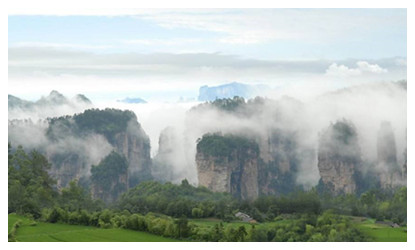 Breathtaking Mihun Stage
This is the optimum viewing platform in Yuanjiajie Scenic Spot. As soon as you stand on the platform, your soul will be captured by the scenery before your eyes, hence the name Mihun Platform. Arrays of stone peaks stand out from deep valleys and soar up to sky, presenting a gorgeous view.

Avatar Hallelujah Mountain (Southern Sky Pillar)
The Southern Sky Pillar in Yuanjiajie is said to be the prototype of the "Hallelujah Mountains'' in the well-known film Avatar. In January 1, 2010, the Southern Sky Pillar (Pillar between Heaven and Earth) was officially renamed as Hallelujah Mountains. It arises 1074 meters above sea level, over 150 meters in height. In the shape of a pillar connecting heaven and earth, this peak serves as a defining geographical landmark of Yuanjiajie Scenic Spot.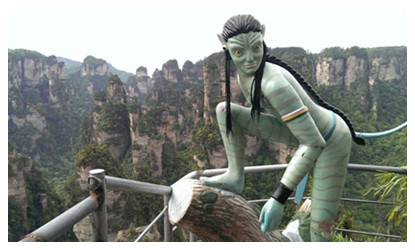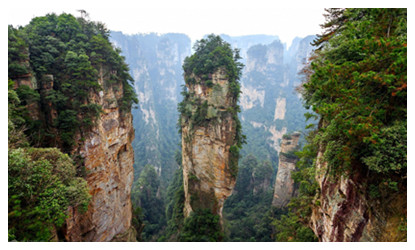 The World's First Bridge
As one of ten wonders in Zhangjiajie, this sky bridge stretches across two mountains. It is uncommon for most of us to see a natural bridge surrounded by white clouds and oddly-shaped stone peaks. It spans over 25 meters with a vertical height of 357 meters, being a natural stone bridge with the maximum vertical heights in the world. In fact, the two mountains linked by the bridge were originally one mountain. The marvelous bridge was carved by the force of mighty wind and water.

---
Travel Tips
Add: located at the center part of Wulingyuan Scenic Area, Wulingyuan District, Zhangjiajie City.
Entrance Fee: CNY 248 ( It is included in the entrance fare of Wulingyuan Scenic Area). But you need to pay one way fare for Bailong Elevator if you take Bailong Elevaor to Yuanjiajie.
Opening Hours: 08:00-18:00
How to get there:
1. Walking through Luancuan Slop from Golden Whip Stream to Back Garden of Yuanjiajie( It's 3hours hiking).
2. Taking Bailong Elevator up to Yuanjiajie Scenic Spot.
3. Take Yangjiajie cable car up to the Scenic Spot of Yangjiajie, and the take shuttle bus to Yuanjiajie Scenic Spot from Wulongzhai Shuttle Bus Station ( It's about 5 minutes drive).
4. Take shuttle bus from He Long Park in Tianzi Mountain Scenic Spot to Yuanjiajie ( it's about 40 minutes drive).