Suoxi Valley Nature Reserve, a part of Wulingyuan Scenic Area, is located in the northeastern part of the
Wulingyuan Scenic Area
in Zhangjiajie City. A stream flows through the mountain gully; and many high peaks in various forms on both sides of gully shrouded in drifting mist look like a group of nature sculptures.
---
What to see in Suoxiyu Scenic Spot ?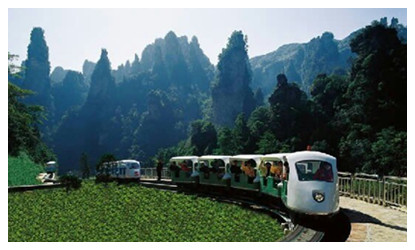 Ten-mile Natural Gallery
It is located in the northwestern part of Suoxigu Natural Reserve, at the foot of Tianzi Mountain. It is about 5.8 kilometers in length. With a stream flowing through, and the peaks on both sides of the valley shape, it forms natural sculptures. The Herb Collecting Old Man and Immortals Worshipping Guanyin are the most spectacular.
Ten-mile Natural Gallery has picturesque scenery, beautiful flowers and a hundred birds contend in singing. The sceneries in this scenic area have strange shapes.
Suoxi Lake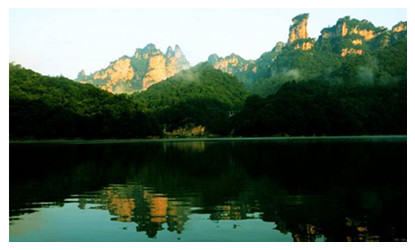 Entering the Wulingyuan Scenic Area, you can see a crystal lake which is situated the valley. Founded in 1974, It is a man-made lake which covers a total area 92 square km. The lake collects water from the Goden Whip Strea, Tianzi Mountain, And Yuanjiajie Scenic Spot. It gives a breathtaking scenery with beautiful mountains and green water.
Suoxi Valley covers an area of more than 180 square kilometers and is the largest of the three zones. Unlike the solitary stone monoliths of Zhangjiajie, the mountains of Suoxiyu stretch out one after another, like an unfolding scroll of a Chinese painting. However, in the east, there is a collection of caves, for example, Yellow Dragon Cave and Goddess Cave. These are caves made of limestone.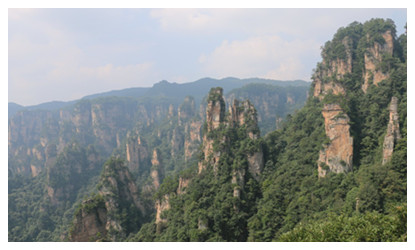 Besides the rock formations and beautiful rivers and streams, a distinct feature of Suoxiyu is its bridges and caves. Constructed on cliffs, the bridges are noted for their risky location. Most of them were built by hand of blocks of rocks chiseled to dovetail perfectly together. The limestone caves create fascinating underground palaces. Altogether there are 59 of them, many full of odd and unique shaped stalactites and stalagmites.
In terms of rare animals, Suoxi Valley boasts more than 20 species, such as leopards, pangolins, and giant salamanders. There are more than 20 groups of rhesus monkeys with their total number reaching to 1,000. According to scientific statistics, trees here have 93 families, 208 genus, and 679 species in all. Among them, those that are under national special protection reach to 19 species. Wild medicinal herbs are extraordinarily rich. There are 500 species in all.
---
Travel Tips
Add: Wulingyuan District of Zhangjiajie City, Hunan China
Entrance Fee: CNY 248 ( The entrance tikcet excludes the trams of Ten-mile Gallery)
Opening hours: 08:00-18:00
How to get there: Enter Wulingyuan Scenic Area by shuttle bus after you get to Wulingyuan District.