Golden Whip Stream (Jinbian Stream),located in
Zhangjiajie
National Forest Park, is famous for its pristine water. Named after the 380-meter high Golden Whip Rock, the Golden Whip Stream runs from Laomo Bay to Shui Rao Si Men(water-surrounded gates) then to Suoxi River, it finally joins Lishui River, one of the four longest rivers in Hunan Province.
---
Hiking along the Golden Whip Stream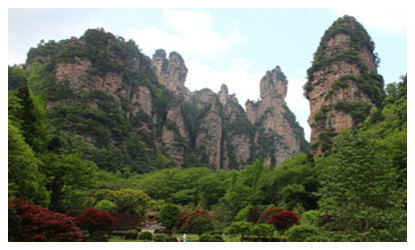 Although it is over 7 km, the Golden Whip Stream is the best place for hiking.
Golden Whip Stream flows between steep grotesque peaks and luxuriant trees. Here, the meandering streams, the crystal-clear waterfalls, exotic plants and rare animals co-exist and constitute the extraordinarily beautiful, tranquil and natural ecological environment. No wonder it is called "the most beautiful valley in the world" and "the most poetic stream". It usually takes 3 hours trekking if you start from the entrance gate of
Zhangjiajie
National Forest Park to the site of
Shui
raosimen, nearby
Bai
long Elevator Station.
What to see in the Golden Stream?
Yingbin Crag (Welcoming Crag)
This crag is looked like a person who is smiling to entertain visitors. And the cliffs between this crag just naturally shaped as a opening door. From this scene, visitors feel being entertained and waited by host.
Drunk Lohan (Drunk Arhat}
Across from the Golden Whip Mountain is a red 200 meter tall mountain that is angled at 70 degrees, which slightly resembles a drunk that looks like he should fall but just won't.
Golden Whip Rock, well-known far and wide. Jinbianxi is named just because it always runs past Jinbianyan.This rock is 378m high, just resembles a lifted steel whip, directly pointing into the sky, making people watch it with awe. What's more, its stone structure is that of red quartzose sandstone and limestone,which,in the sunshine,illuminates golden lights,and hence the name Golden Whip Rock. It is the highest, steepest and most magnificent stone peak in the scenic area of Zhangjiajie. As people praise: "Everywhere you can see famous mountains and great rivers. Only Golden Whip Rock is the most marvelous of all the marvelous".
Condor Guarding the Whip
There is something more marvelous still. Here,a huge peak is leaning closely onto the left side of the magic Whip. It resembles a powerful eagle, with its head lifted. One of its wings is flapped, ready to soar into the sky, while the other is still mightily half-embracing the Golden Whip Rock.So it is called "The Condor Guarding the Whip", also one of the ace scenic spots of Jinbianxi.
Cutting Into the Mountain to Save Mom
This hill formation was created by years upon years of water erosion. After the erosion of the mountain what stood was a mountain that in front was fused up until the top half where it seems it to be split equally in half. It resembles an ax ark in the mountain. This goes along with the legend that a man to save his mom split the mountain in half with an ax. It is a beautiful mountain and is worth a stop and a few pictures.
Wenxing Rock (Literature Star Rock)
There is a rock called Wenxing Rock which means a star in the literature field. Star Rock is a hill formation that is in the stream of Golden Whip Mountain.It's said that the hill resembles one of China's great modern literary giants, and a great thinker, Lu Xun (1881-1936), so because of this, it's called Star Rock, you know because he's a star.
Double Turtle Creek
If you go half way down the creek you'll run into a peak that has two stones stacked together on top of it. If you look close enough they look like two turtles, it's said that they were sent from the eastern part of China to look after the Golden Whip, but with time the water level dropped and the stone that they settled on kept getting higher and higher, until it was to high for them to climb down, and after being stranded thousands of years they turned to stone.
The Scholar and His Books
The scholar and his books is another hill formation that resembles a scholar and his books. Who would of thought. It's a tall slender hill that looks like a scholar, and if you look closely the valley looks like a bunch of books. If you look close enough it looks as though he could just grab a chunk of the valley sit down on a near down pool and just study.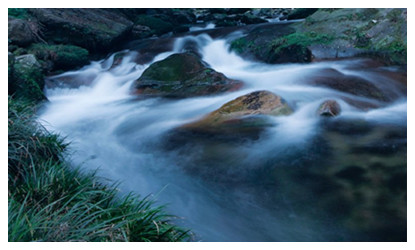 Purple Grass Pond (Zicaotan)
It is so called because a kind of purple grass was said to always grow on the wall of the pond. Here, the river course abruptly widens, and the waters rushing down from Shadaogou. After about 15m of repeated blocking, no longer have so many ripples and waves, The surface of the pond is as tranquil as a mirror. The pond, with a width of 4m and a depth of about 5m,is the hoted for the national secon-class protective animals--giant salamanders, and once was the production place of the renowned Golden Whip Fish.
Meeting of Thousand Miles
Following a river that passes lakes, and passes other mountains there are two peaks, it is said that these two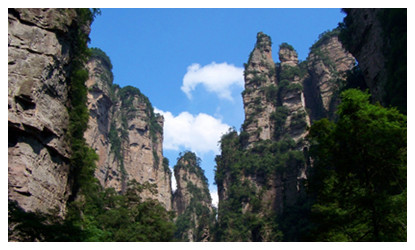 peaks represent a husband and his wife that finally met after being away from each other for a long time. The husband is the taller mountain, his arm is around his wife, the mountain next to him, comforting her, the two are said to hold a silent, and true sense of love, and tenderness between them, it looks as though they are holding each other tight and whispering like that of a husband and wife reuniting after being away for so long.
Fish Jumping Pool
Fish Jumping Pool is a pool cause by the pulling stream. Stream flows from the higher place to the lower reach so that there is a pool made by the power of the water. During the spawning time, fish will swim to this pool and jump joyfully. It is a pool that is one of the two eyes (two pools) of the area, it's a hole in the base rock that was formed from a constant flow of water. It then became a common breeding ground for fish, so the pool like its name often has fish jumping about.
If you go downstream from The Golden Whip Mountain you'll see three peaks that stand very tall, this is Camel's Peak. The first mountain is the camels head standing erect, and behind it is his two humps. There is a pavilion in this area that guest can climb up.
The Grave of Zhang Liang
On the platform under Boliu Crag in the Golden Whip Stream is the Grave of Zhang Liang, who was the Marquis and the military counselor during the Western
Han
Dynasty (206 B.C- 25 A.D.).The legend goes that he lived as a hermit in Wulingyuan Scenic Spot after he had helped Liubang be the first emperor in the Western
Han
Dynasty (206 B.C- 25 A.D.) and he was buried here as well. Now the Grave of Zhang Liang becomes one of the most important culture relics in the Golden Whip Stream.
Water Rapping Around Four Doors
Do to the wild topography of this area, the rivers do not go straight, they twist, and rap around the mountains, in one area four of these corners are referred to as "doors", and because the water raps around them this area is called "Water Rapping Around Four Corners."
---
Lobster Flower
Walking in the scenic spot of the Golden Whip Stream,visitors can enjoy singing birds and fragrant flowers in mountains. Please notice those strange-shaped flowers along the stream. They rather resemble lobsters.Right,they are called "Lobster Flower". It is a rare herbaceous plant, which sprouts in spring, blossoms in summer,and bear fruits in autumn and whose leaves fall in winter.
Chinese Dove Flower
The dove tree is a perennial woody flower, which generally blossoms in the end of spring and beginning of summer. The flower is white, but its stigma has slight purplish red, like a dove's head and mouth, and its flower has two long and big bracts, like a pair of wings. The whole shape of the flower is like a flying dove. This is a peculiar kind of trees of China and foreign friends endearingly call it "The Chinese Dove Flower".
Dawn redwood
It is also one of the national first-class protective plants. The dawn redwood is a very ancient tree. People once thought it had thoroughly disappeared as a result of the assault by the Quaternary Period Glacier. In 1941, the botanist of our country discovered it in Modaogou of Wanxian. Sichuan Province. In 1982,when Zhangjiajie was developed ,we found large areas of dawn redwoods and other rare plants of over 3,000 species growing here .This is really a huge wealth the great nature has bestowed us.
Tarvel Tips
Add:
Jin
bian Brook is one of the scenic spot in Zhangjiajie National Forest Park located in Wulingyuan District, Zhangjiajie City, Hunan Province.
Entrance fee:
CNY248 (expires after two days: includes main gate entrance of Zhangjiajie National Forest Park, eco friendly car, and insurance; but does not include the cable car, ladder ride, or small train.)
Opening time:
07:30-18:00
Best time to visit:
in spring and summer, if you get the chance you should go after it rains, the water will be higher, and all the sights will be especially beautiful.
Recommended time for visit:
2-3 hours
How to get there:
Buses to Zhangjiajie National Forest Park are available at the coach station near the railway station. The buses depart approximately every 10 minutes and it takes about 40 minutes (32 km) to reach the park. The bus ticket is CNY10 normally and is probable to rise up at festivals, holidays and peak season of tourism.
Notice:
1. This area is cooler than the other part of Zhangjiajie because there are lots of trees to prevent heat from you. But it will make you feel cold sometimes, so it is better to take some long-sleeves shirts or coats.
2. If you plan to catch the most beautiful scene here, you can choose a fine day after the rain. The misty Zhangjiajie will lead you enter into a fairy land immediately.