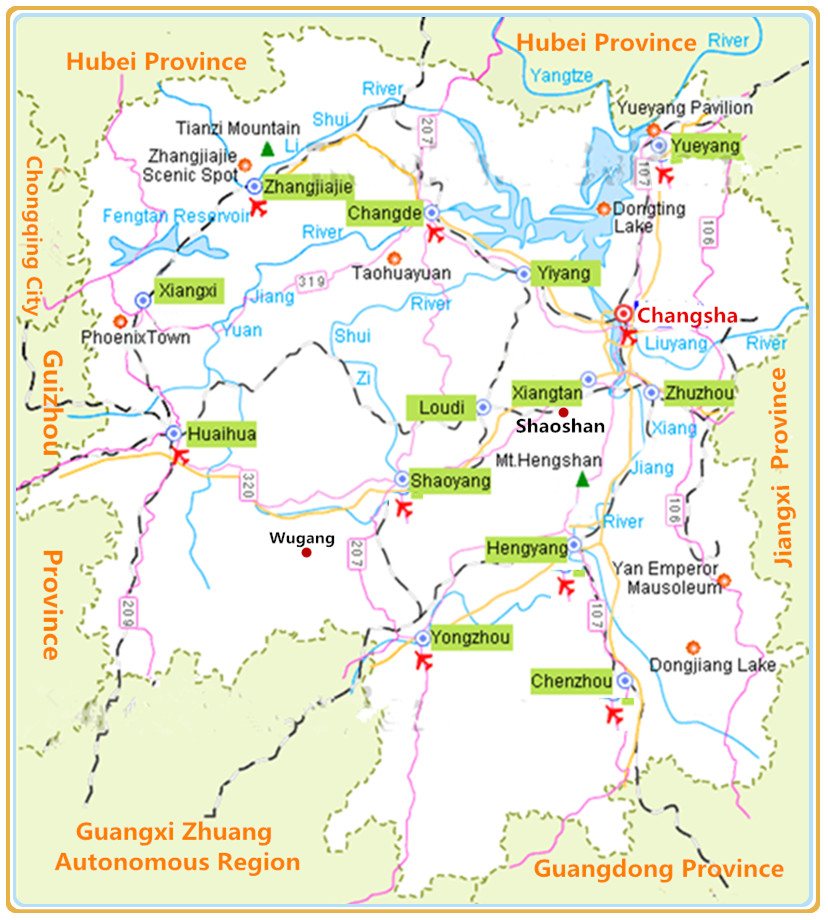 Zhangjiajie City
is a rising tourism city which is situated on the northwestern border of
Southcentral China's Hunan Province.
Covering a total area of 9,516 square kilometers (about 3,674 square miles), Zhangjiajie City has four areas under its governance: Yongding District and Wuling District, Cili County and Sangzhi County.
The city enjoys subtropical moist mountain climate, thus for visitors it is an ideal place to spend one's holiday.
Area: 9,516 square kilometers
Location: northeast of Hunan Province
Population: about 1,600,000
Nationalities: Tujia, Bai, Miao and Han
Area Code: 0744
Zip Code: 427000
---
History of Zhangjiajie
The history of Zhangjiajie can be traced back to the Neolithic Age when it was still named "Dayong". The first human traces in this area have been registered about 100,000 years ago. Humans lived here along both banks of the Lishui River (the mother river in Zhangjiajie), now within the boundaries of Zhanagjiajie City, very early during the Stone Age.
In 1982, central government built the first national forest park here and named it Zhangjiajie National Forest Park. In 1988, Dayong city, in which Zhangjiajie located, together with Sangzhi (the site of Tianzi Mountain) and Cili (the site of Suoxi Channel) combined into one city that subordinated to provincial government directly. As the development of tourism industry, and Zhangjiajie National Forest Park is increasingly becoming known to world, Dayong city was renamed as Zhangjiajie city in 1994, which is which is famous for the Wulingyuan Scenic Area.
...More
---
Geography of Zhangjiajie
Zhangjiajie City features a variety of different terrains including: mountainous regions, upland areas, plains, and Karst rock areas. Among these, the mountains cover 76 percent of the total area. The world-famous natural heritage site 'Wulingyuan Scenic Area' is located on the base of these great mountains.
Lishui River, the fourth longest river in Hunan Province, comes from west of Sangzhi County and runs through the area of Zhangjiajie. Maoyan River,located in Yongding District of Zhangjiajie City, is a section of Lishui River. Loushui River, located in Cili County, is a branch of Lishui River.
---
What to see in Zhangjiajie?
Zhangjiajie City is famous for tourism. Tourist resources in the city are quite abundant, featuring with many natural and geological parks. Main attractions are most sited in Wulingyuan. As China's first national forest park, Zhangjiajie National Forest Park is composed of Suoxiyu Scenic Area, Mt. Tianzi Scenic Area, Yangjiajie Nature Reserve, etc., which have been listed as a World Natural Heritage Site. Wulingyuan Sandstone Peak Forest, Karst Platform Area in Tianmen, Maoyan Jiutian Karst Canyon Cave Area and Furong Fossil Protected Area in Sangzhi, are listed into the world's first geological park. By visiting the places you will have a grand and majestic landscape of the China beauty.Zhangjiajie is located in the northern mid-latitudes, belonging to the central Asian tropical mountain prototype monsoon humid climate, with plenty of sunshine and abundant rainfall. The annual average temperature is 17℃; the coldest month is January with an average temperature of 5.1℃. The hottest month is July and August, with an average temperature 28℃. The annual precipitation is about 1400 mm...
More
---
When to visit Zhangjiajie?
With a short spring of two months and a long summer lasting five months, Zhangjiajie is mostly warm and mild in a year. July is the hottest time with the highest temperature reaching 32-38 C , and February is usually the coldest, when the lowest temperature is 0-2C.
Best Time to Visit Zhangjiajie: April to June is the best time to go, when the climate is mild with flowers in full blossom and trees all in green. Traveling to Zhangjiajie in September through November is also great. During this time, you can see the scenery, view maples on the mountains and enjoy abundant fruits. More: Zhangjiajie Weather
---
How to get to Zhangjiajie?
Transportation here is very convenient. Zhangjiajie Hehua International Airport has flights to destinations such as Beijing, Shanghai, Guangzhou, Xi'an, Nanjing, Nanning and Yinchuan, as well as Taipei and Busan. Train routes extend to Guangzhou, Beijing, Zhanjiang, Changsha and Wuxi. The highways extend in all directions, and it is worthwhile to mention that a superhighway connects Changsha and the city. New roads connect the city center to a number of scenic areas, making travel by car very convenient...More
---
Zhangjiajie Travel Tips
As one of the most popular tourism destinations in China, Zhangjiajie is famous for its natural landscape. The Wulingyuan Scenic Area in Zhangjiajie, composed of four core scenic areas, was included by UNESCO in the World Natural Heritage list in 1992. What are the top things to do in Zhangjiajie and what are the must-visit places? Let's have a look!....More
Zhangjiajie Nightlife
Zhangjiajie Dining
Zhangjiajie Shopping
Zhangjiajie Hotels