Yellow Stone Village , also Huangshi Village or Huangshi Fort, is the largest observatory inside
Zhangjiajie National Forest Park
. It is located in Wulingyuan Scenic Area in Zhangjiajie City. It is said that during the Han Dunasty, Zhang Liang (a politician) quitted from the political field and started his round tour. When he came to this area, he was blocked by officials. And finally, his teacher named Huang Shi Gong helped him to ran away. From then on, this place was called Huangshi Village...
Tourism Map of the Yellow Stone Village
Just like Yuanjiajie Scenic Spot, Huangshizhai Scenic Spot is also a must-see place in Zhangjiajie National Forest Park. Touring Huangshizhai Village, visitors can have two choices as below: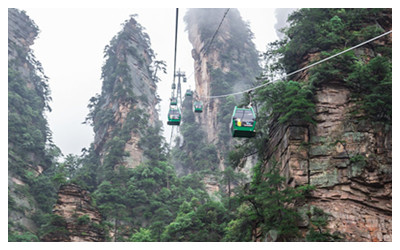 1.
Take round-trip cable car tour, it will take you about 2-3 hours visiting.
2.
Take cable car up to visit Huangshizhai Village, and then walk down along 3000 stairs on the path, this will take you about 5-6 hours visiting.
Next, please follow me to explore the beautiful scenery of Huangshizhai Scenic Spot
Take Huangshizhai
cable car
Taking cable car for your touring Huangshi Village, you can save most of the time, and you can enjoy the scenery of thousands of strange peaks that you can't see on foot. Visitor can walk to the Laomowan Shuttle Bus Station to take the shuttle bus about 5 minutes to the lower station of the Huangshizhai Rope Way, and then go up to Huangshizhai Scenic Spot by cable car.
---
Walk around Huangshizhai Village
he Yellow Stone Village is 1080 m above sea level. It is higher on the south and elevated by stiff cliffs, covering an area of 16.5 hectors. It provides the largest collection of marvelous spectacles and also provides the larges sightseeing terrace above sea level in Zhangjiajie. It will take you about 2 hours walking around the Huangshizhai Village, and you can see the chief scenic spots listed as below:
| | | |
| --- | --- | --- |
| | | |
| Six Wonders Pavillion | Star-Catching Platform | Five-finger Peaks |
| | | |
| Natural Wall Painting | Piers Left from Heaven Bridge | Jade Vase Peak |
| | | |
| Marshal Monkey Commanding Soldiers | Immortal Turtle in the Mist | Black Pines Hilltop |
Hike to the Yellow Stone Village
Each stone peak in Zhangjiajie is an ancient artwork, and each stone peak also hides the infinite mysteries of nature. Faced with such magnificent and magnificent scenery of the sandstone peaks and forests, a few years ago, a female writer from Russia stood at the Huangshizhai observation platform to sigh: " After looking at the scenery of Zhangjiajie, I feel really that i can die today." Then she said again that after looking at the scenery of Zhangjiajie, she felt that there was more reason to live well. Here list top attractions which you will see if you hike to the Yellow Stone Village.
---
Travel Tips
Add:
Zhangjiajie
National Forest Park, Wulingyuan District of
Zhangjiajie
City
Opening Hours:
08:00-18:00
Ticket fee:
Huangshi Village Cable Car fee is CNY 118 for round trip.