---
Zhangjiajie 48-Stockade Scenic Area
---
The 48-Stockade Scenic Area is one of the top ten out-doors destinations in Zhangjiajie City. It is located in Guangfuqiao Town of Cili County,east of Zhangjiajie. Lying at the junction of the three counties, Cili county of Zhangjiajie City, Taoyuan and Shimen County of Changde City, the scenic area has an total area of 40 square kilometers. It has attracted many adventers,hikers from worldwide because of its natural scenery, Taoist culture, ancient history, rare plants and animals...
---
What to see ?
Then 48-Stockade Scenic Area includes Wulei Mountain, Xingde Mountain, Mengquan Lake, Laopeng Village, Sanwang Village, Shuangyun Village, Taiping Village,Huanghua Village. Top attractions in the scenic area are listed as below: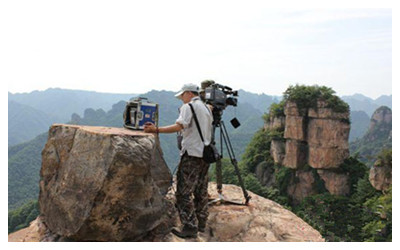 Chengmen Stockade
Chengmen, " 城门 chéng mên"means " City Gate" in English. The Chengmen Stockade is famous for the ancient castle which was constructed on the top of the mountain in ancient times. The mountain is surrounded by deep cliff on the south,and the man-made stone walls on the other three sides. Nobody can reach the top of the mountain without lift. The stone wall has a height from 3 to 30 meters. It was recorded that the castle was constructed by Gneral Lei Man in 880 AD , in the Guangming 1st year of the Emperor Tang Xizong, during the Tang Dynasty ( 608-906 AD).

Chengdtuo Stokacde
Located at the foot of Chengmen Stockade, the "Chengtuo Stockade" is hidden by its stockade rock and has never been discovered until 2009. Piled up by five huge round red sandstones, Chengtuo Stockade is shaped by a dustpan-sized rock at its top, looking like a sliding weight of a steelyard. It reaches a height of over 20 meters and is as smooth as a mirror. It is said the stockade's name "Chengtuo" (chèng tuó in Chinese means sliding weight of a steelyard) is originated from the rock's shape.

Mengquan Lake
Mengquan Lake, 蒙泉湖, also called "Niujiaodang Lake", is located in Mengquan Town, south of Shimen County. Lying at the junction of Cili County, Shimen County,and Taoyuan County, Mengquan Lake is a part of the 48-Village Scenic Area.

Zhubaowan Scenic Spot
Zhubaowan Scenic Spot is located in Shuangyun Village,the score of the 48-stockade Scenic Area in east of Zhangjiajie City's Cili County.Zhubaowan means "the pearl canyon" because it was said that lots of treasures and pearls were hidden here by Li Zicheng in 1645.Zhubaowan Scenic Spot is famous for its unique beautiful mountains,historical and cultural relics,as well as crystal waters.A cleaning stream runs from Taiping Mountain and snakes about 2km in the canyon.Entering the canyon,you will be got many attractions in your eyes.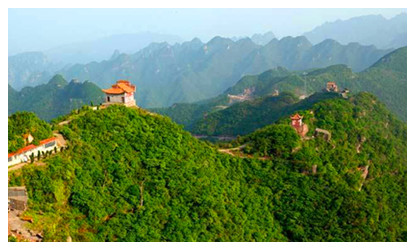 Wulei Mountain
With 997 metres above sea level, Wulei Mountain is the most famous Daoist site in China's Hunan Province. The mountain is located in the eastern of Cili County. Tourist can take half hour's bus from the downtown of Cili County to the entrance gate of Wulei Mountain. Lots of stone-made constructures here were built in mountainous ranges in ancient China. It was recorded the first Daoist temple was built by Li Jing, a famous general in the early Tang Dynasty. And a complex of constrctures with 36 Palaces, 72 temples,48 Stocakdes were finished to build during the Ming Dynasty. Wulei Mountain was as well as named " South Wudang Mountain" , which was also as famous as Wudang Mountain, "North Wudang Mounatin", in Hubei Province.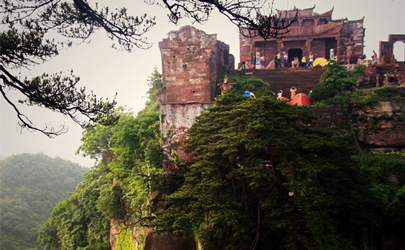 Xingde Mountain
On the besides of Changsha-Zhangjiajie High-Way, Xingde Mountain is standing in southern of the 48-Stockade Scenic Area. The stone-made temple is locted at the mountainous top site, which has been alone over 1,000 years. Most cliffs are so dangerous that less tourists can make their encourage move their steps to the border of the cliff. With some ancient pines' company, the scenery of Xingde Mountain is getting more and more beautiful.

Laopeng Ancient Village
Laopeng Tujia Village, a must-see place in the 48-stockade Scenic Area, is situated in Guangfuqiao Town,east of Zhangjiajie City's Cili County.It's 151 km away from downtown of Zhangjiajie.And it is only 18 km from Reshi Town in Changde City's Taoyuan County.
---
Travel Tips
Add: Guangfuqiao Town, Cili County, Zhangjiajie City,Hunan Province
Opening Hours: 07:00-18:00
Entrance Free: Wulei Mountain CNY 58 ; Xingde Mountain: CNY 50, Mengquan Lake ride boat CNY 80
---